Adventure - 8th Largest Coast Redwood
| | | | | | | |
| --- | --- | --- | --- | --- | --- | --- |
| Height: | 332.35+ ft | (101.30+ m) | Elevation: | 280 ft (85 m) | GPS Latitude: | 41.37551 |
| Volume: | 32,140 ft3 | (910 m3) | Creek: | Prairie Creek | GPS Longitude: | -124.01639 |
| Width: | 16.24 ft | (4.95 m) | Grove: | Otis Grove | Discovery Date: | 1990 |
| Age: | 1,721 y | | Park: | Prairie Creek Redwoods SP | Discovered By: | Michael W. Taylor |
Notes: Adventure, also known as The Adventure Tree, is the 8th largest coast redwood, the 2nd largest tree in Prairie Creek Redwoods State Park, and the largest tree in James and Fredda Otis Grove. Naturalist Michael W. Taylor named the tree Adventure because he considered reaching and measuring the tree, which grows on a steep hillside beside a 10 ft (3 m) tall creek bank, an adventure.
The upper trunk of Adventure is extremely large: over 11.2 ft (3.4 m) wide from 150 ft to 172 ft (46 m to 52 m) above ground (wider than any coast redwood at those heights) and still 4.4 ft (1.3 m) wide 324 ft (99 m) up (also a record). Adventure appears on the cover of Richard Preston's book The Wild Trees: A Story of Passion and Daring.
Drive: Adventure is 262 mi (422 km) north of San Francisco near the community of Orick.
From U.S. Highway 101 just north of Orick, take exit 753 Newton B. Drury Scenic Parkway. Drive north 2.0 mi (3.2 km) on Newton B. Drury Scenic Parkway to the turnout, located at 41.37587 -124.01449, on the left/west side of the road.

Hike: From the trailhead, hike west 350 ft (107 m) to the junction with Prairie Creek Trail. Turn left at the trail junction and hike south on Prairie Creek Trail toward the Adventure viewpoint which appears on your right. To visit Adventure, hike south 200 ft (61 m) on Prairie Creek Trail and exit the trail to your right. Hike along logs across Prairie Creek then turn right/north and hike along the creek bank to Adventure.
| | | | | | | | |
| --- | --- | --- | --- | --- | --- | --- | --- |
| Rating: | Easy | One-Way Distance: | 700 ft | (213 m) | Ascent: | 0 ft | 0 m) |
| Time: | 10 min | Off-Trail: | 250 ft | (76 m) | Descent: | 0 ft | (0 m) |
View Adventure Tree location in Google Maps
Photos: Pictures of Adventure Tree taken from different sides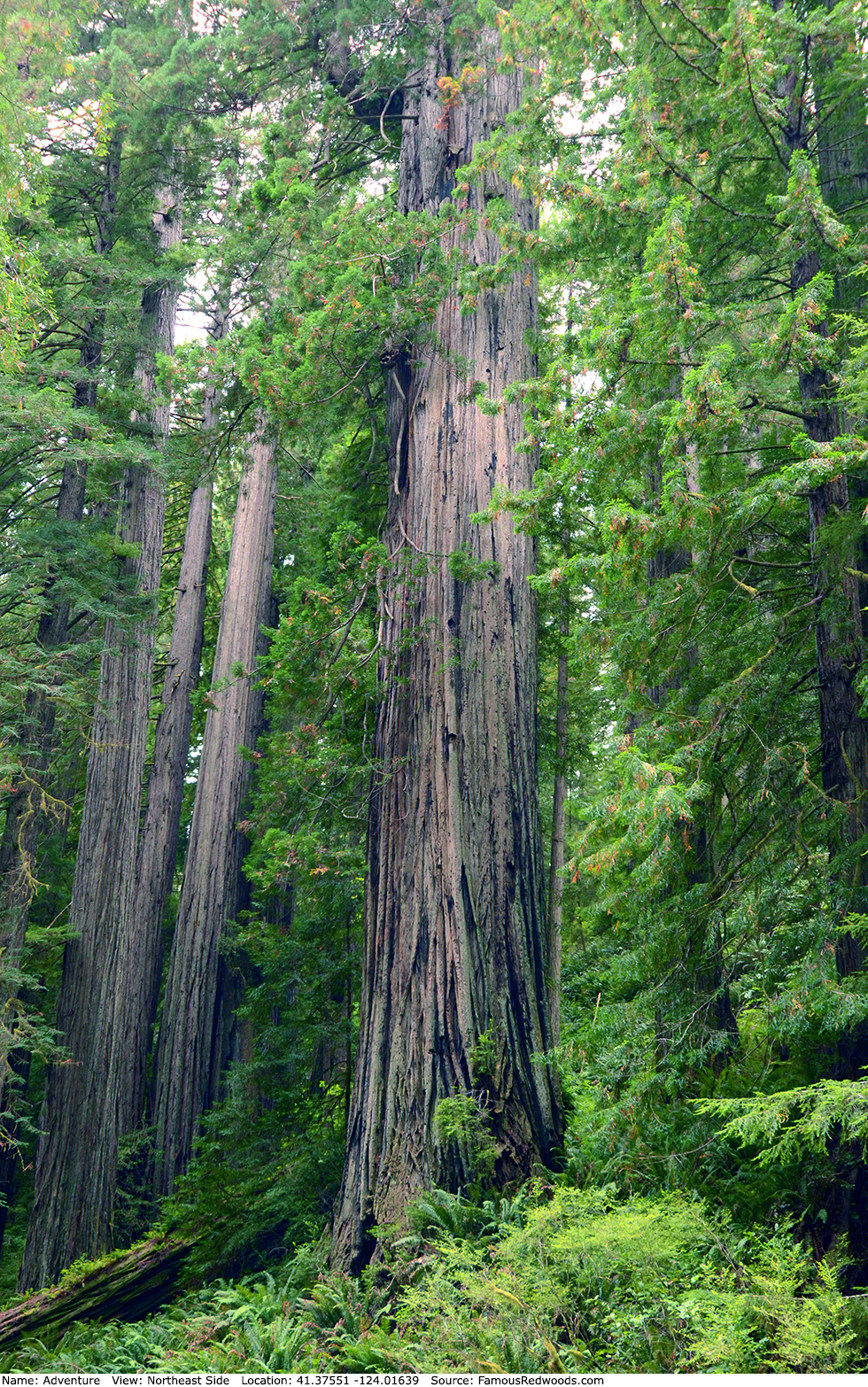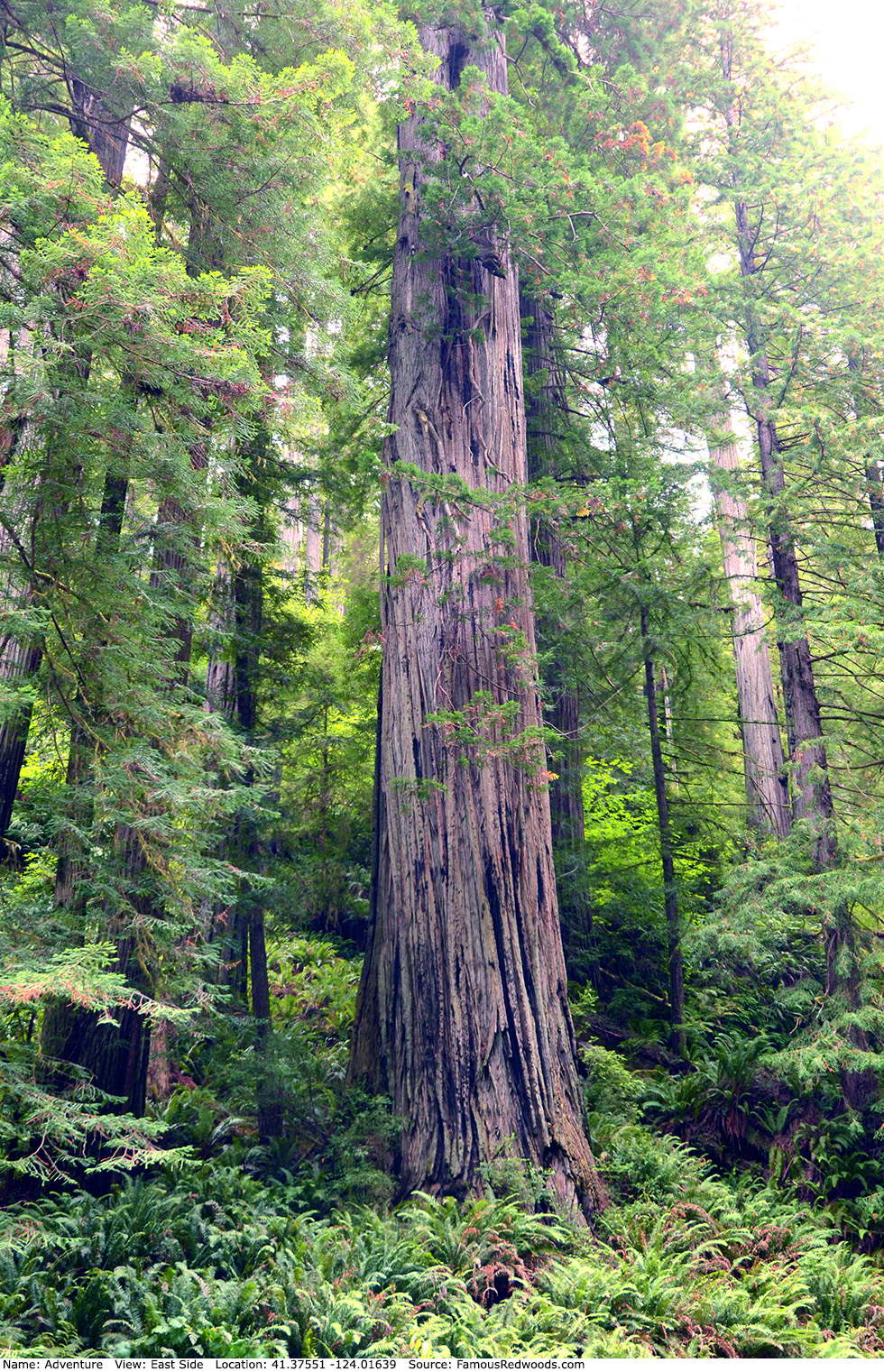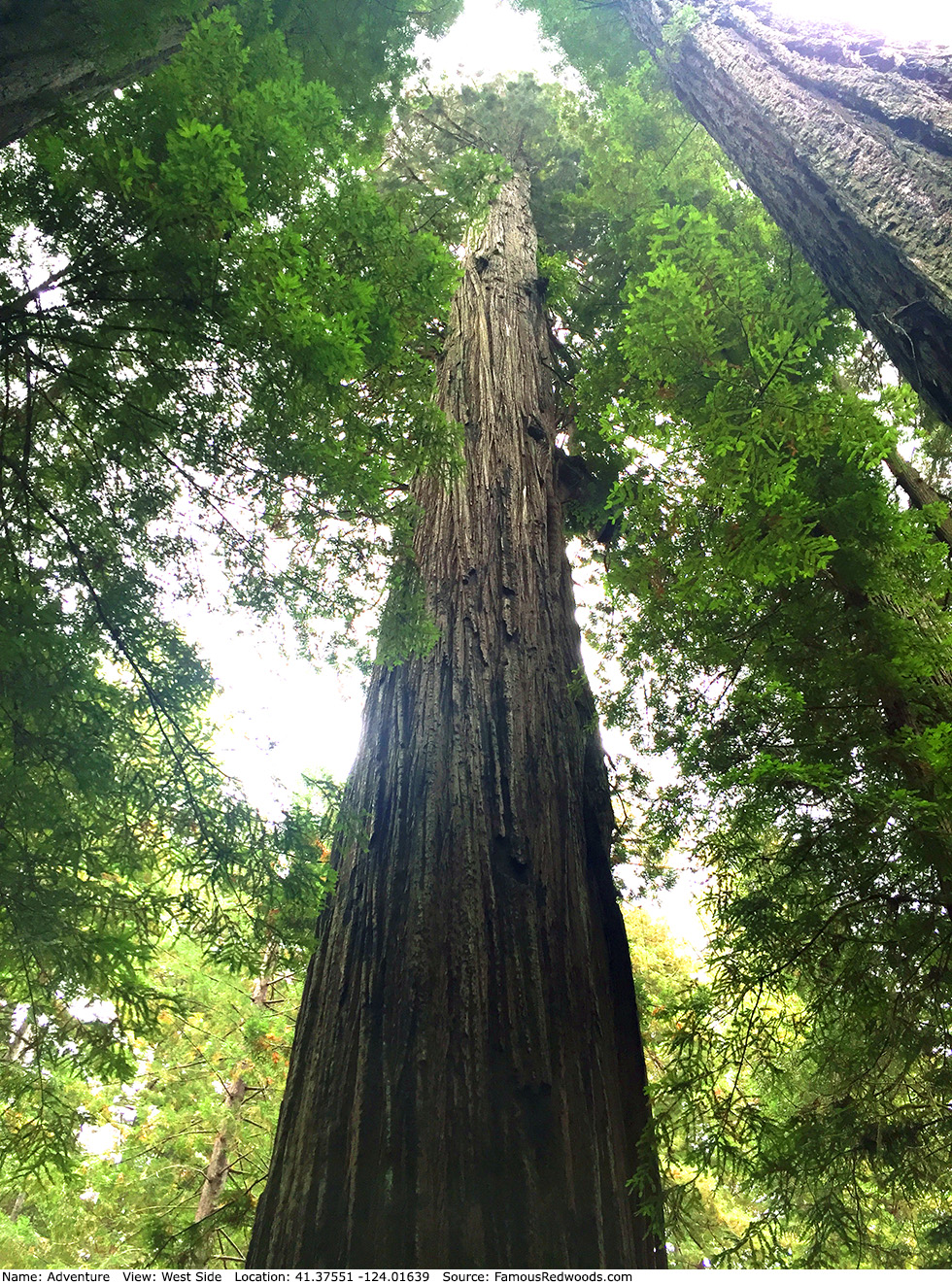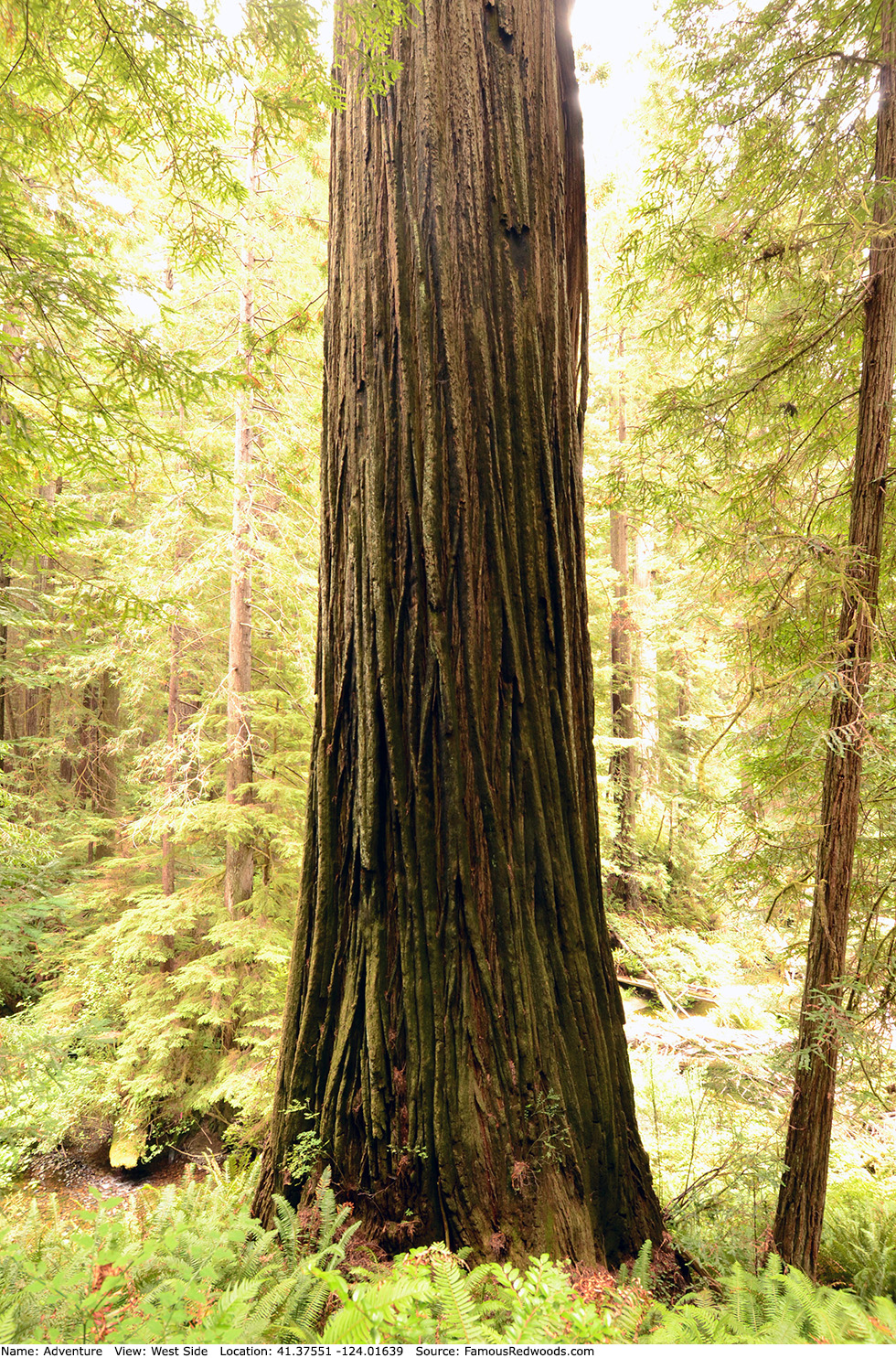 >