ARCo Giant - 12th Largest Coast Redwood
| | | | | | | |
| --- | --- | --- | --- | --- | --- | --- |
| Height: | 262.00+ ft | (79.86+ m) | Elevation: | 236 ft (72 m) | GPS Latitude: | 41.35218 |
| Volume: | 30,699 ft3 | (869 m3) | Creek: | Prairie Creek | GPS Longitude: | -124.02919 |
| Width: | 22.50 ft | (6.86 m) | Grove: | | Discovery Date: | |
| Age: | | | Park: | Redwood NP | Discovered By: | |
Notes: ARCo Giant, named after Arcata Redwood Company (ARCo) which owned the tree before Redwood National Park was established on October 2, 1968, is the 12th largest coast redwood and the 2nd largest tree in Redwood National Park (excludes Jedediah Smith Redwoods and Prairie Creek Redwoods State Parks). Although ARCo Giant grows near Prairie Creek, the tree is considered part of Redwood National Park because it grows just outside the southern border of Prairie Creek Redwoods State Park.
National Geographic Society senior scientist Paul A. Zahl included a photograph of his son, Paul Jr., climbing ARCo Giant in his July 1964 National Geographic magazine article Finding the Mt. Everest of All Living Things which features Howard Libbey (then world's tallest tree), Harry Cole (then world's 2nd tallest tree), Nugget (then world's 3rd tallest tree), Rockefeller (then world's 4th tallest tree), Hill-Davis (then world's 6th tallest tree), ARCo Giant, and Chandelier.
Drive: ARCo Giant is 261 mi (420 km) north of San Francisco near the community of Orick.
From U.S. Highway 101 just north of Orick, take exit 753 Newton B. Drury Scenic Parkway. Drive north 0.2 mi (0.3 km) on Newton B. Drury Scenic Parkway to unmarked (and unpaved) Wolf Creek Road. Turn left and drive southwest 0.1 mi (0.2 km) on Wolf Creek Road toward the Wolf Creek Education Center. Park at the turnout just before the locked gate, near 41.34941 -124.02879, where Davison Trail meets Wolf Creek Road.

Hike: From the turnout on Wolf Creek Road, hike past the Davison Trail sign and gate. Hike north 850 ft (260 m) on Davison Trail to ARCo Giant which stands on the left/west side of the trail.
| | | | | | | | |
| --- | --- | --- | --- | --- | --- | --- | --- |
| Rating: | Easy | One-Way Distance: | 850 ft | (260 m) | Ascent: | 0 ft | (0 m) |
| Time: | 3 min | Off-Trail: | 0 ft | (0 m) | Descent: | 0 ft | (0 m) |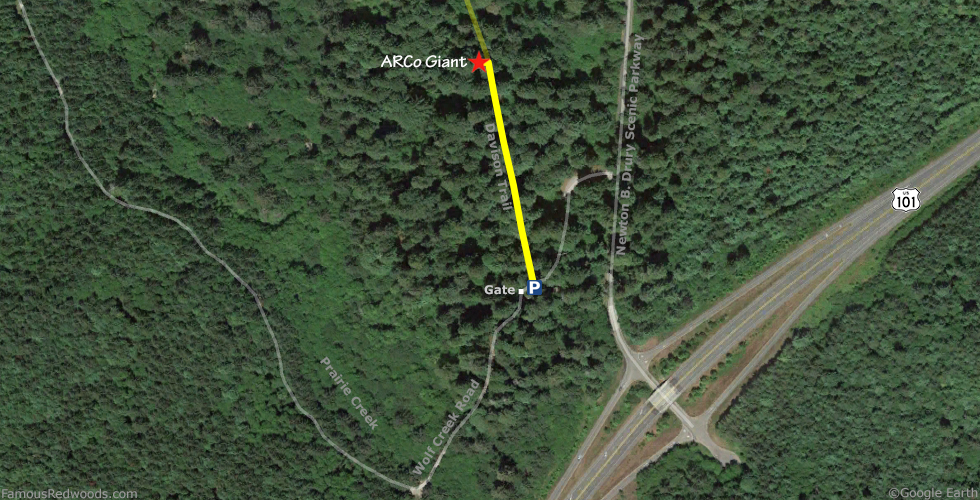 View ARCo Giant Tree location in Google Maps
Photos: Pictures of ARCo Giant Tree taken from different sides