Chandelier
| | | | | | | |
| --- | --- | --- | --- | --- | --- | --- |
| Height: | 282.00+ ft | (85.95+ m) | Elevation: | 994 ft (303 m) | GPS Latitude: | 39.85832 |
| Volume: | | | River: | South Fork Eel River | GPS Longitude: | -123.71950 |
| Width: | 17.25 ft | (5.26 m) | Grove: | Drive-Thru Tree Memorial Grove | Discovery Date: | 1937 |
| Age: | 2,400 y | | Park: | Drive-Thru Tree Park | Discovered By: | Charles Underwood |
Notes: Chandelier, also known as Drive-Thru Tree, is located at 67402 Drive-Thru Tree Road in Leggett, California 1.0 mi (1.6 km) south of the northern terminus of California State Route 1 at U.S. Highway 101. Chandelier was so named because it resembles an ornate chandelier with enormous branches balanced on each side of the trunk. These limbs, which measure from 4.0 to 7.0 ft (1.2 to 2.1 m) in diameter, emerge from the main trunk approximately 100 ft (30.5 m) above ground.
In 1921, dairy farmers Charles and Hazel Underwood purchased a 0.48 mi2 (1.24 km2) tract of old growth redwood forest, located along the South Fork of the Eel River near Leggett, which they developed into a private, roadside resort. In 1922, the couple opened Underwood Park, with campsites, to the public. In 1937, they hired foresters to carve a 6 ft (1.8 m) wide and 6.75 ft (2.1 m) tall tunnel, large enough for automobiles, through the trunk of Chandelier as a unique attraction for park visitors. By the 1960s, Underwood Park included twenty cabins, a recreation hall, a soda fountain, and even a bar. Although the park no longer offers lodging or camping, it still provides hiking trails, a large meadow, a duck pond, picnic tables, restrooms, a gift shop, and, of course, the famous drive-through redwood.
Chandelier is 33 ft (10 m) shorter and 3.8 ft (1.1 m) narrower than the sign indicates: 315 ft (96 m) and 21 ft (6.4 m) respectively. A vintage postcard of Chandelier appears during the opening credits of National Lampoon's Vacation. Videographer Michael Katusich published an aerial flyover of Chandelier.
Chandelier is the most-popular of the three drive-through coast redwoods: as many as 500 vehicles visit the tree each day during summer. Drive-Thru Tree Park is open year-round (except on Thanksgiving and Christmas) from 8:30 a.m. until dusk. Call 707-925-6464 or visit drivethrutree.com for seasonal hours, current entrance fees, and more information.
Other drive-through redwoods include Shrine, Tour Thru, and Tunnel Log. California is a walk-through tunnel tree.
Drive: Chandelier is 160 mi (257 km) north of San Francisco in the community of Leggett.
From U.S. Highway 101, exit at California State Route 1 near the community of Leggett. Drive west 325 ft (99 m) on California State Route 1 to California State Route 271. Turn left and drive south 0.6 mi (1.0 km) on California State Route 271 to Drive-Thru Tree Road. Turn right and drive 0.4 mi (0.6 km) south on Drive-Thru Tree Road, past the Drive-Thru Tree Park entrance station (entrance fee required), to Chandelier.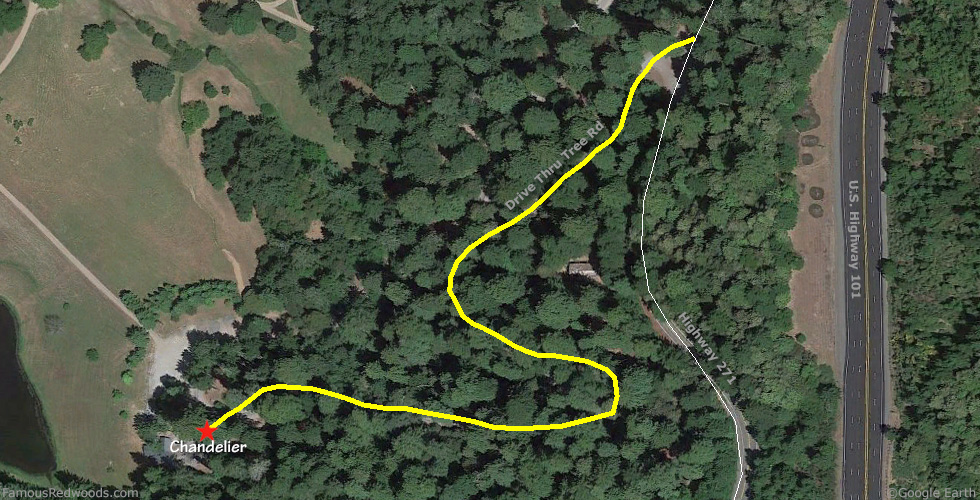 View Chandelier Tree location in Google Maps