Corkscrew
| | | | | | | |
| --- | --- | --- | --- | --- | --- | --- |
| Height: | | | Elevation: | 200 ft (61 m) | GPS Latitude: | 41.38106 |
| Volume: | | | Creek: | Prairie Creek | GPS Longitude: | -124.01574 |
| Width: | | | Grove: | Otis Grove | Discovery Date: | |
| Age: | | | Park: | Prairie Creek Redwoods SP | Discovered By: | |
Notes: The National Park Service asserts that Corkscrew is an example of a cathedral tree, or fairy ring, similar to Titanic Cathedral. Others suspect that the intertwined trunks formed after several coast redwoods, which grew around a central tree (perhaps of a different species) that later decayed, were buffeted by storms.
Drive: Corkscrew is 262 mi (422 km) north of San Francisco near the community of Orick.
From U.S. Highway 101 just north of Orick, take exit 753 Newton B. Drury Scenic Parkway. Drive north 2.3 mi (3.7 km) on Newton B. Drury Scenic Parkway to the Corkscrew Tree sign on your left.

Hike: From the Corkscrew Tree sign, hike northwest 400 ft (122 m) to Corkscrew Tree.
| | | | | | | | |
| --- | --- | --- | --- | --- | --- | --- | --- |
| Rating: | Easy | One-Way Distance: | 400 ft | (122 m) | Ascent: | 0 ft | (0 m) |
| Time: | 1 min | Off-Trail: | 0 ft | (0 m) | Descent: | 60 ft | (18 m) |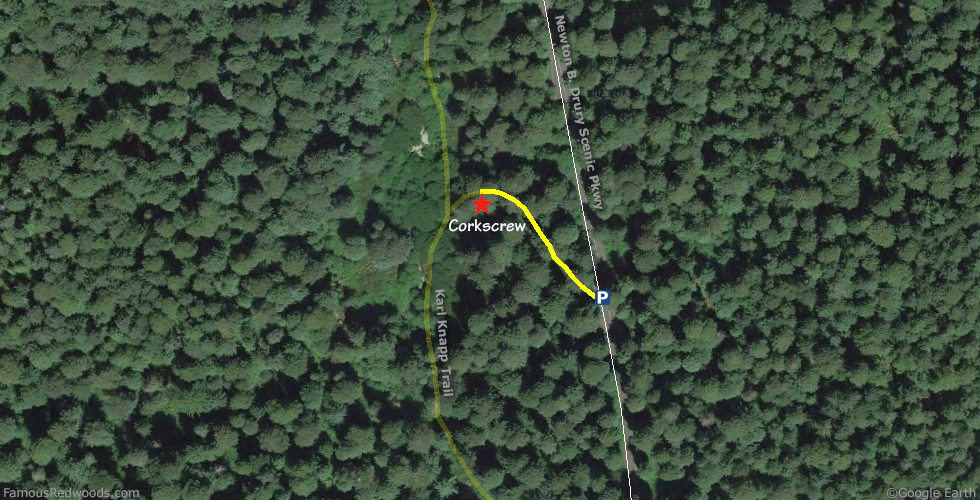 View Corkscrew Tree location in Google Maps
Photos: Pictures of Corkscrew Tree taken from different sides