Drive: Crown Jewel is 251 mi (404 km) north of San Francisco near the community of Orick.
From U.S. Highway 101 just north of Orick, turn onto Bald Hills Road and drive 7.0 mi (11.3 km) to the Tall Trees Grove Access Road (locked gate: visitor center permit required). Turn right onto Tall Trees Grove Access Road, unlock the gate using the combination code on your permit, and drive south 5.2 mi (8.4 km) on the unpaved road to the Tall Trees trailhead parking lot.

Hike: GPS-assisted navigation is recommended for this hike. From the trailhead, hike west/downhill 1.4 mi (2.3 km) on Tall Trees Trail to Tall Trees Grove. Turn left at the bench to access Redwood Creek nearest Tom McDonald Creek. Cross Redwood Creek and, using a GPS device, hike 1.1 mi (1.8 km) up Tom McDonald Creek, past Hyperion, to Crown Jewel. Most of the hike up Tom McDonald Creek is clear of brush and very accessible, but expect to get your feet wet. Although the creekbed is flat, you must circumnavigate several sets of big logs which block your path up the creek which is the only reason this hike is rated moderate instead of easy. After visiting Crown Jewel, hike southeast 50 ft (15 m) off-trail to Tom McDonald then hike north 0.8 mi (1.3 km) down Tom McDonald Creek to Hyperion.
Creek Warning: Crown Jewel is not accessible via Tall Trees Trail when Redwood Creek has high water levels. Though seasonal footbridges are installed throughout summer and fall, the footbridges do no cross Redwood Creek near Tom McDonald Creek. You must wade across Redwood Creek and up Tom McDonald Creek to get to Crown Jewel. It is best to visit Crown Jewel from July through October when Redwood Creek is low enough to wade across. To visit Crown Jewel whenever Redwood Creek is impassable, use the 10.5 mi (16.9 km) longer alternate route via Orick Horse Trail.
Trespass Warning: The forest surrounding Hyperion is closed to the public until further notice. Hyperion, Crown Jewel, and Tom McDonald remain inaccessible indefinitely.
| | | | | | | | |
| --- | --- | --- | --- | --- | --- | --- | --- |
| Rating: | Moderate | One-Way Distance: | 2.5 mi | (4.0 km) | Ascent: | 674 ft | (205 m) |
| Time: | 2 hr | Off-Trail: | 1.1 mi | (1.8 km) | Descent: | 1,055 ft | (322 m) |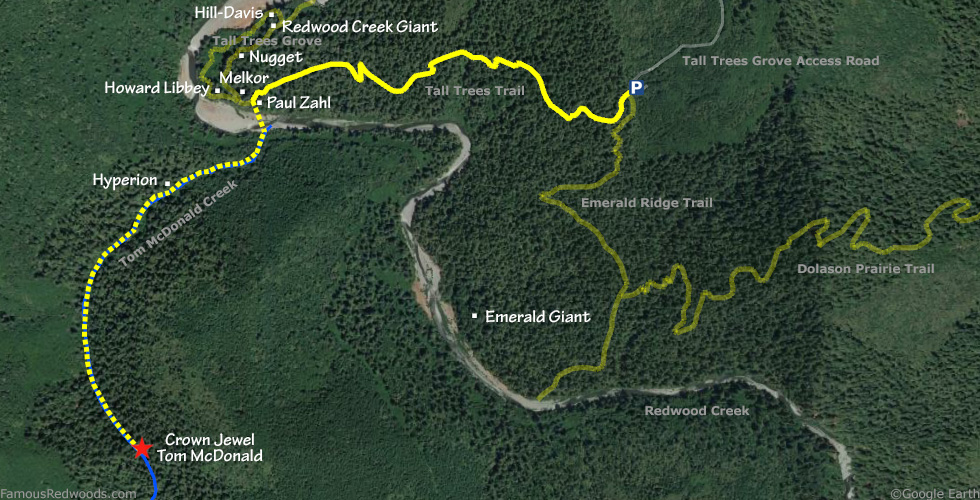 View Crown Jewel Tree location in Google Maps