El Palo Alto
| | | | | | | |
| --- | --- | --- | --- | --- | --- | --- |
| Height: | 110.00+ ft | (33.53+ m) | Elevation: | 67 ft (20 m) | GPS Latitude: | 37.44727 |
| Volume: | | | Creek: | San Francisquito Creek | GPS Longitude: | -122.17021 |
| Width: | 7.55 ft | (2.30 m) | Grove: | El Palo Alto Grove | Discovery Date: | November 1769 |
| Age: | 1,076 y | | Park: | El Palo Alto Park | Discovered By: | Don Gaspar de Portolá |
Notes: El Palo Alto (Spanish for tall tree) is California Historical Landmark No. 2 and the first official, living California landmark. This coast redwood originally had twin trunks (then known as Palos Colorados, Spanish for red trees), but, in 1886, one trunk vanished. Some claim it fell during a windstorm and flood, but others suspect the Southern Pacific Railroad cut it down during construction of the bridge over San Francisquito Creek.
In 1769, Spanish explorer and Baja California Governor Don Gaspar de Portolá discovered and named Los Palos Colorados while searching for Monterey Bay. He and his men used the twin trees, the tallest around, as a landmark while exploring the region. Although de Portolá and his men never found Monterey Bay, they did discover San Francisco Bay instead and, from November 6-11, 1769, camped beneath Los Palos Colorados during their trek home. In 1774, Padre Francisco Palóu erected a wooden cross near Los Palos Colorados to mark the site of a proposed mission which was built later in nearby Santa Clara. In 1776, Fray Pedro Font, who also camped beneath Los Palos Colorados, included the twin redwoods in his topographical map of San Francisco Bay thereby making the trees the first official, living California landmark. In 1850, surveyors used Los Palos Colorados as a landmark again during construction of El Camino Real.
In 1876, railroad tycoon and former California Governor and United States Senator Leland Stanford established the Palo Alto Stock Farm, which he named after El Palo Alto, to breed and train trotting horses. In 1885, Stanford and his wife Jane founded Leland Stanford Junior University (also known as Stanford University and The Farm) around their farm as a memorial for their son, Leland Jr., who had died of typhoid fever a year earlier. El Palo Alto appears on the seals of both Stanford University and the City of Palo Alto (named for the tree and incorporated in 1894) and was the inspiration for the unofficial mascot (The Tree) of the Leland Stanford Junior University Marching Band.
To this day, the City of Palo Alto and local caregivers help preserve El Palo Alto through periodic pruning and mulching, occasional application of pesticides, and regular treetop misting via a water pipe which runs alongside the tree.
A videographer published an aerial flyover of El Palo Alto.
Drive: El Palo Alto is 27 mi (43 km) south of San Francisco in the city of Palo Alto.
From U.S. Highway 101, exit Embarcadero Road. Drive west 2.0 mi (3.2 km) on Embarcadero Road and turn right on Alma Street. Drive north 0.9 mi (1.4 km) on Alma Street, turn right on Palo Alto Avenue, and park on the street.

Hike: From your parking spot, walk southwest on Palo Alto Avenue toward the railroad tracks to the paved El Palo Alto Park trail. Walk northwest 400 ft (122 m) on the trail to El Palo Alto which stands near the southeast side of the bridge over San Francisquito Creek.
| | | | | | | | |
| --- | --- | --- | --- | --- | --- | --- | --- |
| Rating: | Easy | One-Way Distance: | 421 ft | (128 m) | Ascent: | 0 ft | (0 m) |
| Time: | 2 min | Off-Trail: | 0 ft | (0 m) | Descent: | 0 ft | (0 m) |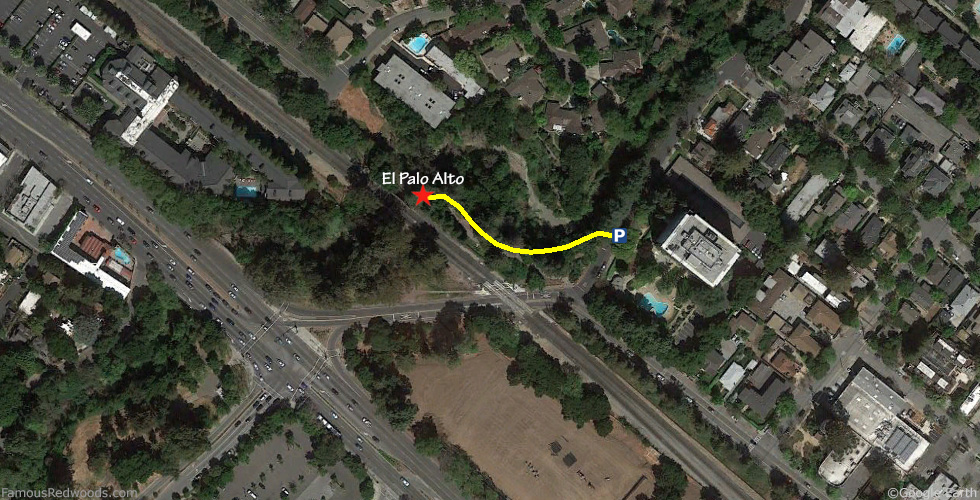 View El Palo Alto Tree location in Google Maps