Emerald Giant - Fastest-Growing Redwood
| | | | | | | |
| --- | --- | --- | --- | --- | --- | --- |
| Height: | 359.00+ ft | (109.42+ m) | Elevation: | 151 ft (46 m) | GPS Latitude: | 41.20020 |
| Volume: | 17,930 ft3 | (508 m3) | Creek: | Redwood Creek | GPS Longitude: | -124.00050 |
| Width: | 16.10 ft | (4.91 m) | Grove: | Emerald Grove | Discovery Date: | |
| Age: | 782 y | | Park: | Redwood NP | Discovered By: | |
| | | | | | | |
Notes: Emerald Giant, also known as Emerald Springs Tree, was named after nearby Emerald Creek (also known as Harry Weir Creek). Emerald Giant is the 8th largest and 16th tallest tree in Redwood National Park (excludes Jedediah Smith Redwoods and Prairie Creek Redwoods State Parks) and the tallest and largest tree in Emerald Grove. Emerald Giant is also the 3rd fastest-growing redwood yet measured; it gained an average of 1,627 lb (738 kg) aboveground biomass each year during a recent decade.
Emerald Giant appears briefly (from 16:55 to 17:19) in MacGillivray Freeman's National Parks Adventure during a segment about Redwood National Park and is featured in the BBC Radio 4 Nature program James and the Giant Redwoods.
Drive: Emerald Giant is 251 mi (404 km) north of San Francisco near the community of Orick.
From U.S. Highway 101 just north of Orick, turn onto Bald Hills Road and drive 7.0 mi (11.3 km) to the Tall Trees Grove Access Road (locked gate: reservation required). Turn right onto Tall Trees Grove Access Road, unlock the gate using the combination code provided in your reservation confirmation email, and drive south 5.2 mi (8.4 km) on the unpaved road to the Tall Trees trailhead parking lot.

Hike: GPS-assisted navigation is recommended for this hike. From the trailhead, hike west/downhill 50 ft (15 m) on Tall Trees Trail to the junction with Emerald Ridge Trail. Turn left at the trail junction and hike south/downhill 1.2 mi (1.9 km) on Emerald Ridge Trail to Redwood Creek. Turn right and, using a GPS device, hike northwest 0.3 mi (0.5 km) along Redwood Creek until you see a long fallen log in the creek bed near 41.20032 -124.00187 (creek currents might eliminate this landmark). Turn right/east just before the fallen log and hike east 300 ft (91 m) into the forest, following another large fallen log on your right, toward Emerald Giant. Turn right again just past the root ball of the large fallen log for your first view of Emerald Giant.
| | | | | | | | |
| --- | --- | --- | --- | --- | --- | --- | --- |
| Rating: | Easy | One-Way Distance: | 1.7 mi | (2.7 km) | Ascent: | 0 ft | (0 m) |
| Time: | 45 min | Off-Trail: | 0.4 mi | (0.6 km) | Descent: | 680 ft | (207 m) |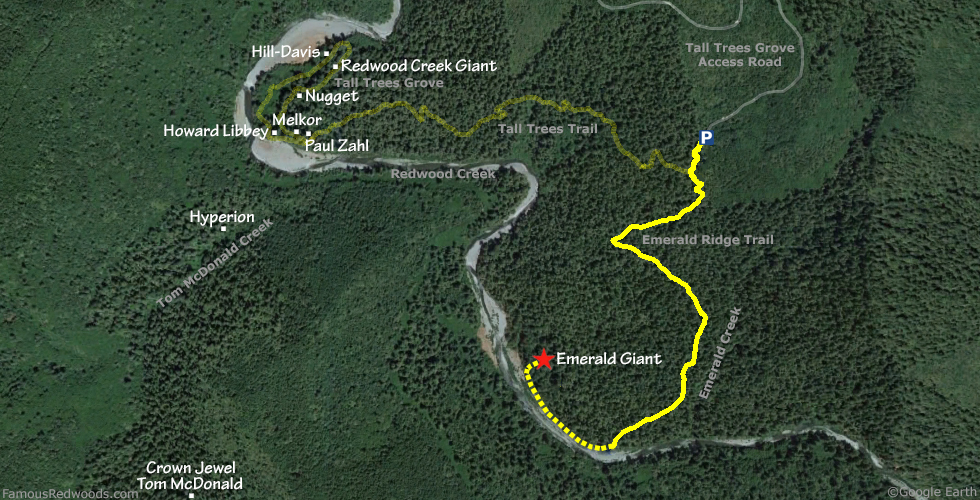 View Emerald Giant Tree location in Google Maps
Photos: Pictures of Emerald Giant Tree taken from different sides