False Elk - 18th Largest Coast Redwood
| | | | | | | |
| --- | --- | --- | --- | --- | --- | --- |
| Height: | 311.00+ ft | (94.79+ m) | Elevation: | 170 ft (52 m) | GPS Latitude: | 41.36111 |
| Volume: | 27,944 ft3 | (791 m3) | Creek: | Prairie Creek | GPS Longitude: | -124.02677 |
| Width: | 19.30 ft | (5.88 m) | Grove: | Ferguson Grove | Discovery Date: | |
| Age: | | | Park: | Prairie Creek Redwoods SP | Discovered By: | |
Notes: False Elk, also known as The Parthenon, is the 18th largest coast redwood, the 8th largest tree in Prairie Creek Redwoods State Park, and the largest tree in Vira Georgeson and William C. Ferguson Grove. False Elk should not be confused with Big Tree (also known as Elk Tree and Elk Grove Tree) which grows nearby in James Irvine Grove.
Drive: False Elk is 262 mi (422 km) north of San Francisco near the community of Orick.
From U.S. Highway 101 just north of Orick take exit 753 Newton B. Drury Scenic Parkway. Drive north 1.2 mi (1.9 km) on Newton B. Drury Scenic Parkway and turn left onto Prairie Creek Road. Drive south 0.4 mi (0.6 km) on Prairie Creek Road, past the Prairie Creek Visitor Center and Elk Prairie Campground entrance (Day use fee required), and park in the picnic area parking lot on your right.

Hike: From the parking lot, hike northwest 130 ft (40 m) off-trail to False Elk.
| | | | | | | | |
| --- | --- | --- | --- | --- | --- | --- | --- |
| Rating: | Easy | One-Way Distance: | 125 ft | (38 m) | Ascent: | 0 ft | (0 m) |
| Time: | 30 s | Off-Trail: | 130 ft | (40 m) | Descent: | 0 ft | (0 m) |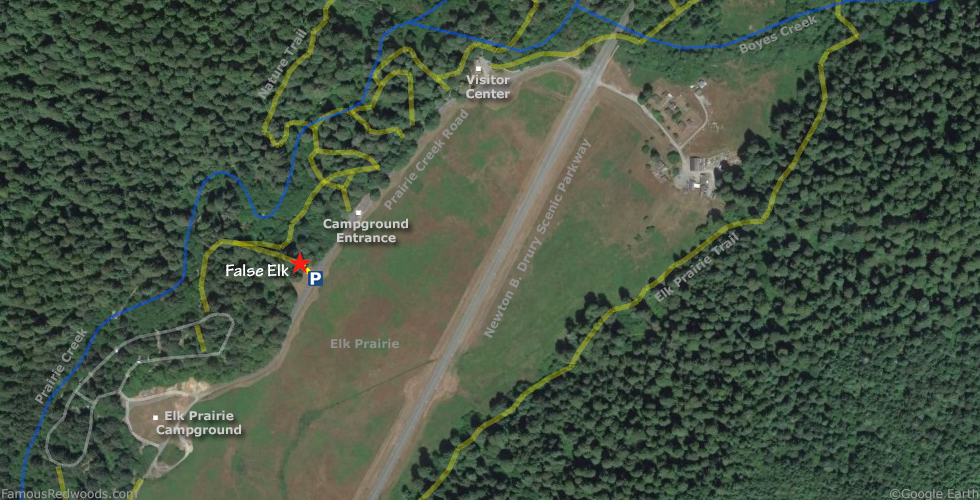 View False Elk Tree location in Google Maps
Photos: Pictures of False Elk Tree taken from different sides