Floyd Otter - World's 13th Largest Tree
| | | | | | | |
| --- | --- | --- | --- | --- | --- | --- |
| Height: | 273.10+ ft | (83.24+ m) | Elevation: | 7,196 ft (2,193 m) | GPS Latitude: | 36.32748 |
| Volume: | 39,562 ft3 | (1,120 m3) | Creek: | Garfield Creek | GPS Longitude: | -118.71696 |
| Width: | 25.00 ft | (7.62 m) | Grove: | Garfield Grove | Discovery Date: | 2001 |
| Age: | | | Park: | Sequoia NP | Discovered By: | James Chelebda |
| | | | | | | Arthur P. Cowley |
| | | | | | | Lawrence L. Otter |
| | | | | | | Michael Reed |
Notes: Before the 2020 Castle Fire, Floyd Otter, named to honor former Mountain Home Demonstration State Forest manager Floyd L. Otter, was the world's 13th largest tree, the 11th largest giant redwood, the 7th largest tree in Sequoia National Park, and the 2nd largest tree in Garfield Grove. The trunk lost significant volume after it burned, and, pending updated volume estimates, Floyd Otter likely no longer ranks among the 30 largest giant redwoods.
The discovery of Floyd Otter remains controversial. Naturalists Gus Boik, Wendell D. Flint, and Robert Walker may have identified the tree in fall 1978 when they discovered King Arthur; they spotted two large trees (perhaps Floyd Otter and Eric De Groot) just uphill from King Arthur but did not have time to measure them. In 1993, Flint mentioned an unnamed 25-foot-diameter redwood (likely Floyd Otter) just upslope from King Arthur. In 2001, naturalists James Chelebda, Arthur P. Cowley, Lawrence L. Otter (Floyd's son), and Michael Reed located and measured Floyd Otter while surveying Garfield Grove. Meanwhile, a National Park Service list of the largest giant sequoias by trunk volume, published in December 2012, includes an unnamed 12th largest giant redwood in Garfield Grove (presumably Floyd Otter) which was discovered and measured in 2001 as part of a park-approved project.
Drive: Floyd Otter is 228 mi (367 km) southeast of San Francisco near the community of Three Rivers.
Northbound: From U.S. Interstate 5 North, transfer to California State Route 99 North toward Bakersfield. Drive north 97 mi (156 km) on California State Route 99 and transfer to California State Route 198 East toward Visalia.
Southbound: From U.S. Interstate 5 South in Sacramento, transfer to U.S. Highway 50 East toward South Lake Tahoe. Drive east 1.7 mi (2.7 km) on U.S. Highway 50 and transfer to California State Highway 99 South. Drive south 201 mi (323 km) on California State Highway 99 South and transfer to California State Route 198 East toward Visalia.
Drive east 33 mi (53 km) on California State Route 198, toward Three Rivers, and turn right/east onto Old Three Rivers Road toward Three Rivers Community Cemetery. Drive east 0.4 mi (0.6 km) on Old Three Rivers Road and veer right/east onto Blossom Drive. Drive east 0.1 mi (0.2 km) on Blossom Drive and turn right/south onto South Fork Drive. Drive southeast 12 mi (19 km) on South Fork Drive, past South Fork Campground, to the parking area at the end of the road. Walk west on South Fork Road from the parking area to the trailhead.
Road Warning: Although it remains open year-round, South Fork Drive is a rough, narrow, winding road which remains unpaved beyond the park entrance. Low-clearance/oversized vehicles and trailers are not recommended.

Hike: GPS-assisted navigation is recommended for this hike. From the trailhead, hike southeast 4.7 mi (7.6 km) on Garfield-Hockett Trail, past Bigfoot Tree, to the trail exit point near 36.33101 -118.71621. Leave the trail here and, using a GPS device, hike south/uphill 0.3 mi (0.5 km) off-trail, past King Arthur, to Floyd Otter. After visiting Floyd Otter, hike northwest 110 ft (34 m) off-trail to Eric De Groot or hike north/downhill 350 ft (107 m) off-trail to King Arthur.
| | | | | | | | |
| --- | --- | --- | --- | --- | --- | --- | --- |
| Rating: | Difficult | One-Way Distance: | 5.0 mi | (8.0 km) | Ascent: | 4,326 ft | (1,319 m) |
| Time: | 4 hr | Off-Trail: | 0.3 mi | (0.5 km) | Descent: | 678 ft | (207 m) |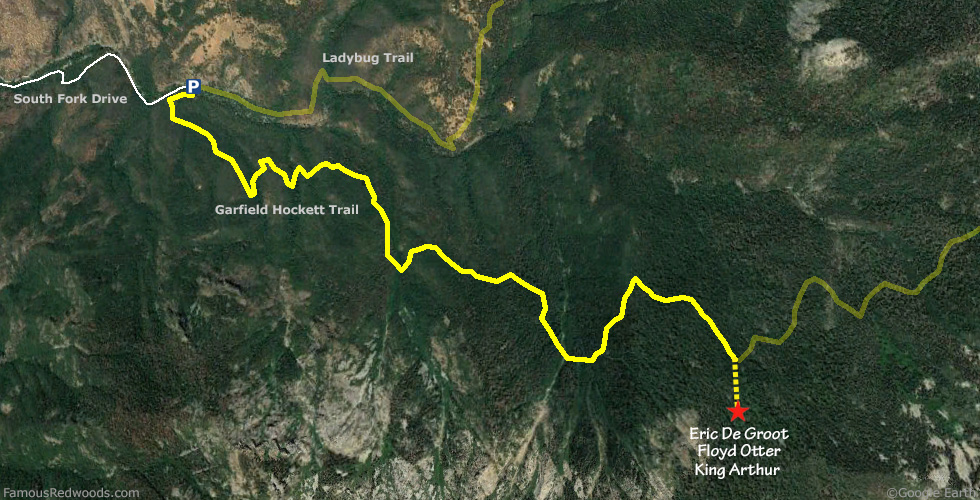 View Floyd Otter Tree location in Google Maps
Photos: Pictures of Floyd Otter Tree taken from different sides