Idril - 2nd Tallest Tree on Calf Creek Flat
| | | | | | | |
| --- | --- | --- | --- | --- | --- | --- |
| Height: | 359.19+ ft | (109.48+ m) | Elevation: | 239 ft (73 m) | GPS Latitude: | 40.35042 |
| Volume: | | | Creek: | Bull Creek | GPS Longitude: | -123.97257 |
| Width: | 11.71 ft | (3.57 m) | Grove: | Calf Creek Flat | Discovery Date: | |
| Age: | | | Park: | Humboldt Redwoods SP | Discovered By: | |
Notes: Idril, also known as Alluvium, is the 2nd tallest tree on Calf Creek Flat. Humboldt State University forestry professor Stephen C. Sillett named the tree after J. R. R. Tolkien's Idril Celebrindal, an elvish princess and mother of Eärendil the Mariner. Idril and Stratosphere Giant are just nine trees apart.
Drive: Idril is 233 mi (375 km) north of San Francisco near the community of Weott.
Northbound: From U.S. Highway 101 just north of Weott, take exit 663 South Fork Honeydew and turn left onto California State Route 254 (Avenue of the Giants). Turn left under the bridge onto Bull Creek/Mattole Road.
Southbound: From U.S. Highway 101 just north of Weott, take exit 663 South Fork Honeydew and turn right onto Bull Creek/Mattole Road.
Drive west 3.4 mi (5.5 km) on Bull Creek/Mattole Road to the Calf Creek parking area, on your right, near a small Calf Creek sign. Immediately across the street, to your left, is a Bull Creek State Wilderness sign.

Hike: GPS-assisted navigation is recommended for this hike. Though you may be tempted to walk straight to Idril from the parking area, the direct route is not ideal because many huge, fallen trees between the road and Idril block your path. Instead, take the Big Tree Trail around Calf Creek Flat to approach Idril from the south. This route is more accessible and requires less off-trail hiking.
To get to Big Tree Trail, walk west 600 ft (183 m) on Bull Creek/Mattole Road from the parking area to a turnout on the left/south side of the road. Near the far end of the turnout, a small sign reads Trail - No dogs except service dogs. This sign marks the connection to Big Tree Trail which turns left/south and follows Bull Creek.
Hike south 0.5 mi (0.8 km) on Big Tree Trail, under a fallen tree, to a tree with an oval burn scar. You will see an old, unpaved road, mostly clear of trees, to your left. Exit the trail here and, using a GPS device, hike north 150 ft (46 m) on the unpaved road, which curves gently left. After the old road curves right continue to the left away from the old road until you reach Idril. After visiting Idril, hike west 500 ft (152 m) off-trail to Stratosphere Giant.
| | | | | | | | |
| --- | --- | --- | --- | --- | --- | --- | --- |
| Rating: | Easy | One-Way Distance: | 0.8 mi | (1.3 km) | Ascent: | 22 ft | (7 m) |
| Time: | 14 min | Off-Trail: | 312 ft | (95 m) | Descent: | 63 ft | (19 m) |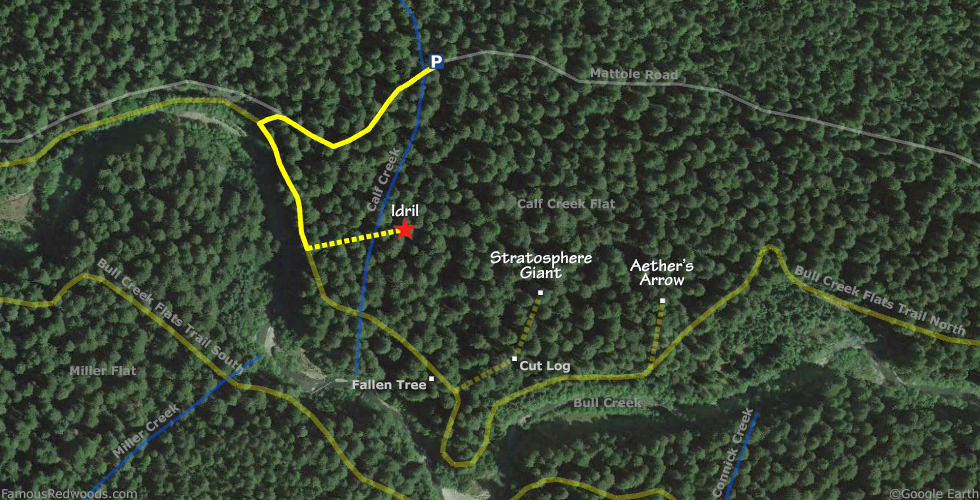 View idril Tree location in Google Maps