Iluvatar - 13th Largest Coast Redwood
| | | | | | | |
| --- | --- | --- | --- | --- | --- | --- |
| Height: | 300.20+ ft | (91.50+ m) | Elevation: | 180 ft (55 m) | GPS Latitude: | 41.36686 |
| Volume: | 30,447 ft3 | (862 m3) | Creek: | Boyes Creek | GPS Longitude: | -124.01714 |
| Width: | 21.88 ft | (6.67 m) | Grove: | Atlas Grove | Discovery Date: | 1991 |
| Age: | 1,686 y | | Park: | Prairie Creek Redwoods SP | Discovered By: | Michael W. Taylor |
Notes: Iluvatar, also known as Cal-Barrel Giant, is the 13th largest coast redwood, the 4th largest tree in Prairie Creek Redwoods State Park, and the largest tree in Atlas Grove. Cal Poly Humboldt forestry professor Stephen C. Sillett named the tree after J. R. R. Tolkien's Eru Ilúvatar, the supreme deity of Arda.
The crown of Iluvatar, one of the most-complex known, contains 209 reiterated trunks, including the largest known reiterated trunk and the only known Class 6 reiteration (six nested reiterations off the main trunk). It is the 2nd largest crown, 915,500 ft3 (25,924 m3), of any redwood yet measured and contains over 1.4 billion leaves. The October 2009 issue of National Geographic magazine includes a composite photograph of Iluvatar. The National Geographic Explorer program Climbing Redwood Giants documents the photograph production.
Iluvatar is directly in the path of the August 12, 2045 total solar eclipse.
Drive: Iluvatar is 261 mi (420 km) north of San Francisco near the community of Orick.
From U.S. Highway 101 just north of Orick, take exit 753 Newton B. Drury Scenic Parkway. Drive north 1.5 mi (2.4 km) on Newton B. Drury Scenic Parkway to Cal-Barrel Road. Turn right onto Cal-Barrel Road, drive east 650 ft (198 m), and park just before the road turns left through a gate.

Hike: From the parking area, walk northwest on Cal-Barrel Road toward Newton B. Drury Scenic Parkway and Foothill Trail which crosses Cal-Barrel Road. Turn left at the Foothill Trail sign and hike southwest 450 ft (137 m) on Foothill Trail, past the Rotary Memorial Grove marker on your left and an odd-looking tree on your right, to Iluvatar which stands 15 ft (5 m) from the trail on your left.
| | | | | | | | |
| --- | --- | --- | --- | --- | --- | --- | --- |
| Rating: | Easy | One-Way Distance: | 800 ft | (244 m) | Ascent: | 0 ft | (0 m) |
| Time: | 5 min | Off-Trail: | 15 ft | (5 m) | Descent: | 0 ft | (0 m) |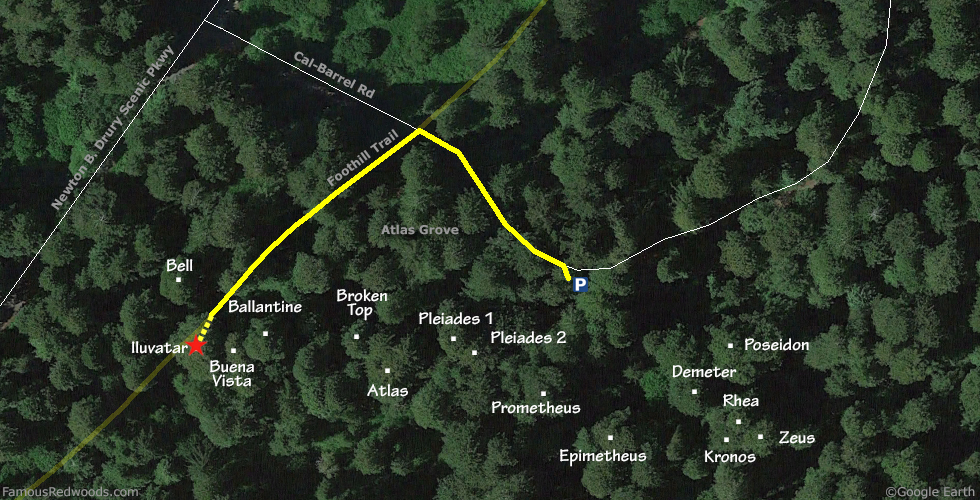 View Iluvatar Tree location in Google Maps
Photos: Pictures of Iluvatar Tree taken from different sides