Melkor - 5th Largest Coast Redwood
| | | | | | | |
| --- | --- | --- | --- | --- | --- | --- |
| Height: | 348.60+ ft | (106.25+ m) | Elevation: | 125 ft (38 m) | GPS Latitude: | 41.20824 |
| Volume: | 33,500 ft3 | (949 m3) | Creek: | Redwood Creek | GPS Longitude: | -124.01218 |
| Width: | 22.40 ft | (6.83 m) | Grove: | Tall Trees Grove | Discovery Date: | 2007 |
| Age: | | | Park: | Redwood NP | Discovered By: | Chris K. Atkins |
| | | | | | | Michael W. Taylor |
Notes: Melkor, also known as Fusion Giant, is the 5th largest coast redwood, the largest tree in Redwood National Park (excludes Jedediah Smith Redwoods and Prairie Creek Redwoods State Parks), and the 8th tallest tree in Tall Trees Grove. Naturalists Chris K. Atkins and Michael W. Taylor named the tree Fusion Giant, and Cal Poly Humboldt forestry professor Stephen C. Sillett renamed it Melkor after J. R. R. Tolkien's Melkor, the first Dark Lord of Eš.
Drive: Melkor is 251 mi (404 km) north of San Francisco near the community of Orick.
From U.S. Highway 101 just north of Orick, turn onto Bald Hills Road and drive 7.0 mi (11.3 km) to the Tall Trees Grove Access Road (locked gate: visitor center permit required). Turn right onto Tall Trees Grove Access Road, unlock the gate using the combination code on your permit, and drive south 5.2 mi (8.4 km) on the unpaved road to the Tall Trees trailhead parking lot.

Hike: From the trailhead, hike west/downhill 1.4 mi (2.3 kmg) on Tall Trees Trail to Tall Trees Grove. Just after you pass to the right of a bench near the creek, turn right/northwest at the southern fork in the Tall Trees Loop trail and hike north 300 ft (91 m) to Melkor located on the right/north side of the trail about 30 ft (9 m) away.
| | | | | | | | |
| --- | --- | --- | --- | --- | --- | --- | --- |
| Rating: | Easy | One-Way Distance: | 1.5 mi | (2.4 km) | Ascent: | 21 ft | (6 m) |
| Time: | 35 min | Off-Trail: | 30 ft | (9 m) | Descent: | 636 ft | (194 m) |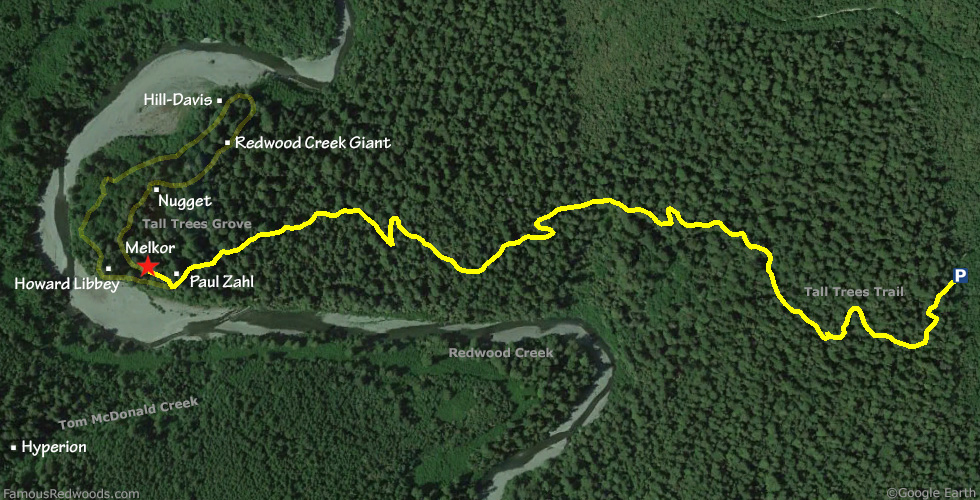 View Melkor Tree location in Google Maps
Photos: Pictures of Melkor Tree taken from different sides