Alternate Route to Outlier
Notes: Use this alternate route to visit Outlier whenever Cal-Barrel Road is closed. If Cal-Barrel Road is open, use the 1.0 mi (1.6 km) shorter normal route instead.
Drive: Outlier is 320 mi (515 km) north of San Francisco near the community of Orick.
From U.S. Highway 101 just north of Orick take exit 753 Newton B. Drury Scenic Parkway. Drive north 1.5 mi (2.4 km) on Newton B. Drury Scenic Parkway to Cal-Barrel Road. Turn right onto Cal-Barrel Road, drive east 650 ft (198 m), and park just before the road turns left at the gate.

Hike: GPS-assisted navigation is recommended for this hike. Outlier grows on a steep slope 400 ft (122 m) west of Cal-Barrel Road. From the parking area, hike northeast 1.0 mi (1.6 km) up Cal-Barrel Rd to a turnout, near 41.37272 -124.00665, directly across from this distinctive Outlier trailhead tree. Walk north up Cal-Barrel Road from the turnout to the Outlier viewpoint to catch a first glimpse of the tree. Return to the turnout, and, using a GPS device, hike northwest 400 ft (122 m) from the road to Outlier.
| | | | | | | | |
| --- | --- | --- | --- | --- | --- | --- | --- |
| Rating: | Moderate | One-Way Distance: | 1.1 mi | (1.8 km) | Ascent: | 573 ft | (175 m) |
| Time: | 45 min | Off-Trail: | 400 ft | (122 m) | Descent: | 73 ft | (22 m) |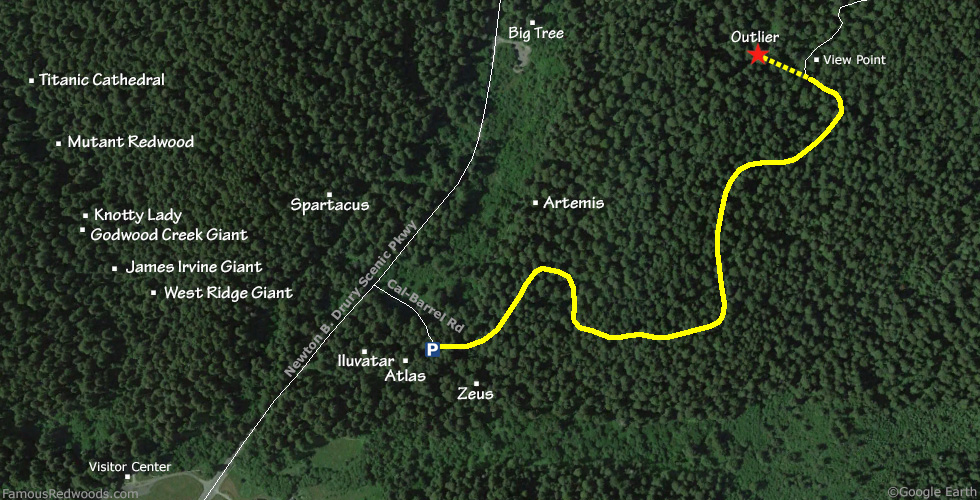 View Test Tree location in Google Maps