Patriarch - Largest Tree in McIntyre Grove
| | | | | | | |
| --- | --- | --- | --- | --- | --- | --- |
| Height: | 176.40+ ft | (53.77+ m) | Elevation: | 6,604 ft (2,013 m) | GPS Latitude: | 36.12599 |
| Volume: | 30,020 ft3 | (850 m3) | Creek: | South Fork Middle Fork Tule River | GPS Longitude: | -118.59347 |
| Width: | 19.30 ft | (5.88 m) | Grove: | McIntyre Grove | Discovery Date: | 1980 |
| Age: | | | Park: | Giant Sequoia NM | Discovered By: | |
Notes: Patriarch was the 17th largest tree in Giant Sequoia National Monument and the largest tree in McIntyre Grove. The 2020 Castle Fire killed Patriarch.
Patriarch should not be confused with another Patriarch (bristlecone pine) tree which grows in Patriarch Grove in Inyo National Forest.
Drive: Patriarch is 240 mi (386 km) southeast of San Francisco near the city of Porterville.
Northbound: From U.S. Interstate 5 North, transfer to California State Route 99 North. From California State Route 99 North just north of Bakersfield, transfer to California State Route 65 North toward Porterville. Near Porterville, transfer to California State Route 190 East.
Southbound: From U.S. Interstate 5 South in Sacramento, transfer to U.S. Highway 50 East toward South Lake Tahoe. Drive east 1.7 mi (2.7 km) on U.S. Highway 50 and transfer to California State Highway 99 South. Near Tipton, transfer to California State Route 190 East toward Porterville.
From Porterville, drive east 32 mi (51 km) on California State Route 190 toward Camp Nelson and turn right onto Nelson Drive toward Camp Nelson and Coy Flat. Veer left onto Nelson Drive, toward Camp Nelson, drive east 1.5 mi (2.4 km), and turn right into Belknap Campground. Ask the camp host, near the campground entrance, about day use parking availability. Typically, if the campground is not full, day users may park free in any empty campsite. Campsite 15, accessible by crossing a bridge over Belknap Creek, is the closest campsite to the trailhead. If Belknap Campground is full, drive east another 0.5 mi (0.8 km) on Nelson Drive, park in the lot for Nelson Trail near the end of the road, and walk west along Nelson Drive back to Belknap Campground.

Hike: From the trailhead near campsite 15, hike east 200 ft (61 m) to a bridge over South Fork Middle Fork Tule River. Cross the bridge, turn left, and hike east 280 ft (85 m), past a fallen redwood bridge beside Cabin 21, to the junction with Redwood Grove Trail before Cabin 22. Warning: This trail junction is unmarked and easy to miss! Look for Redwood Grove Trail on your right, where it parallels a wooden fence between cabins 21 and 22, just after you pass the fallen redwood bridge. Turn right at the trail junction and hike south/uphill 1.2 mi (1.9 km) on Redwood Grove Trail to the junction with Bear Creek Trail. Turn left at the trail junction and hike east 0.6 mi (1.0 km) on Bear Creek Trail to the trail exit point near 36.12617 -118.59349. Leave the trail here and hike south 65 ft (20 m) off-trail to Patriarch.
| | | | | | | | |
| --- | --- | --- | --- | --- | --- | --- | --- |
| Rating: | Moderate | One-Way Distance: | 1.8 mi | (2.9 km) | Ascent: | 1,882 ft | (574 m) |
| Time: | 2 h | Off-Trail: | 65 ft | (20 m) | Descent: | 237 ft | (72 m) |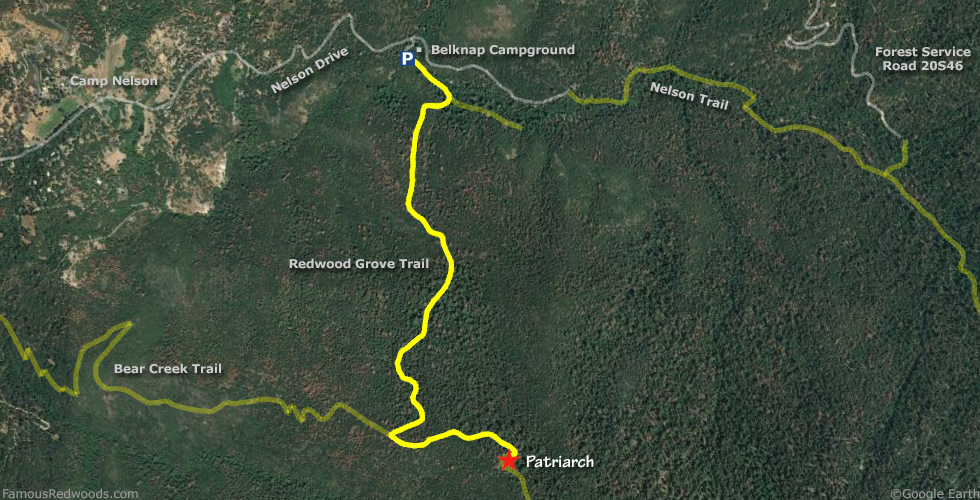 View Patriarch Tree location in Google Maps