Pyramid Giant - World's 24th Tallest Tree
| | | | | | | |
| --- | --- | --- | --- | --- | --- | --- |
| Height: | 364.70+ ft | (111.16+ m) | Elevation: | 220 ft (67 m) | GPS Latitude: | 40.34966 |
| Volume: | | | Creek: | Bull Creek | GPS Longitude: | -123.98429 |
| Width: | 16.00 ft | (4.88 m) | Grove: | Harper Flat | Discovery Date: | |
| Age: | | | Park: | Humboldt Redwoods SP | Discovered By: | Michael W. Taylor |
Notes: Pyramid Giant is the world's 24th tallest tree, the 15th tallest tree in Humboldt Redwoods State Park, and the 4th tallest tree on Harper Flat.
Drive: Pyramid Giant is 196 mi (315 km) north of San Francisco near the community of Weott.
Northbound: From U.S. Highway 101 just north of Weott, take exit 663 South Fork Honeydew and turn left onto California State Route 254 (Avenue of the Giants). Turn left under the bridge onto Bull Creek/Mattole Road.
Southbound: From U.S. Highway 101 just north of Weott, take exit 663 South Fork Honeydew and turn right onto Bull Creek/Mattole Road.
Drive west 4.4 mi (7.1 km) on Bull Creek/Mattole Road to the entrance for the Big Trees Area. Turn left here and continue to the Big Trees Area parking lot.

Hike: GPS-assisted navigation is recommended for this hike. Hike from the parking lot toward Bull Creek and cross the seasonal footbridge, if available. The trail veers left/east just after you cross the footbridge. In 400 ft (122 m), turn right/south toward Giant Tree. Pass to the right of Giant Tree and, when you reach the first Bull Creek Flats trail marker, turn left. When you reach the Johnson Camp Trail sign, turn left again toward the Bull Creek Trail sign. Turn left just past a large broken tree trunk on your left near 40.34963 -124.98349. Exit the trail here and, using a GPS device, hike west 224 ft (68 m) off-trail, around a fallen tree, to Pyramid Giant.
Shortcut: If Bull Creek is low enough and you feel comfortable crossing the creek atop a fallen log, take this shortcut to Harper Flat which reduces hiking time by 20 minutes each way. Park at a pullout on Mattole Road, across from the Look Prairie Road sign, just before the Harper Creek sign. From the pullout, hike west on Big Tree Trail and turn left/south just before the bridge over Harper Creek. Hike south toward Bull Creek, turn right/west, and follow the path to a large fallen log which spans Bull Creek. Hike southeast across the fallen log to Harper Flat. If Bull Creek is impassable or you are unable to walk across the fallen log, take the longer route via the Big Trees Area described above.
Creek Warning: Pyramid Giant is not accessible from the Big Trees Area parking lot when Bull Creek has high water levels and the seasonal footbridge is not installed. It is best to visit Pyramid Giant from July through October when Bull Creek is low enough to wade across. To visit Pyramid Giant whenever Bull Creek is impassable, use the 1.0 mi (1.6 km) longer alternate route via Bull Creek Flats Trail South.
| | | | | | | | |
| --- | --- | --- | --- | --- | --- | --- | --- |
| Rating: | Easy | One-Way Distance: | 0.8 mi | (1.3 km) | Ascent: | 28 ft | (9 m) |
| Time: | 25 min | Off-Trail: | 224 ft | (68 m) | Descent: | 6 ft | (2 m) |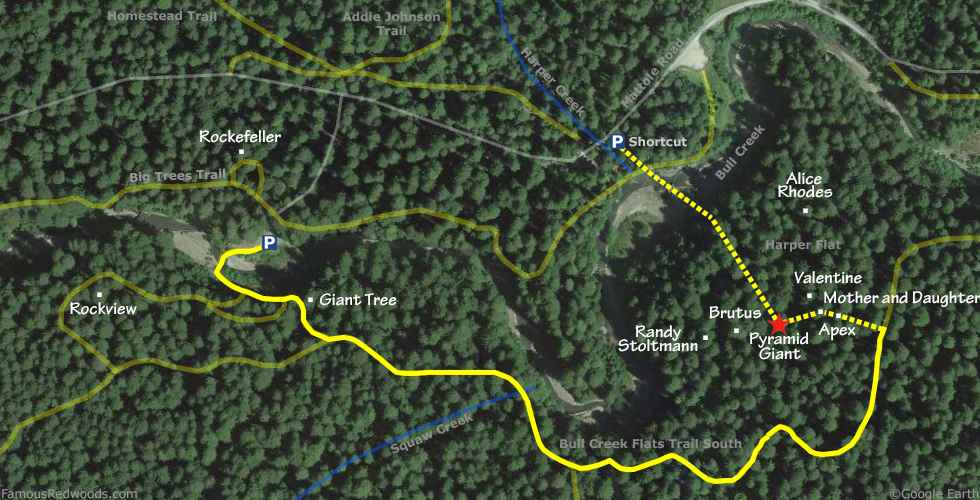 View Pyramid Giant Tree location in Google Maps