Redwood Creek Giant - 22nd Largest Coast Redwood
| | | | | | | |
| --- | --- | --- | --- | --- | --- | --- |
| Height: | 360.20+ ft | (109.79+ m) | Elevation: | 122 ft (37 m) | GPS Latitude: | 41.21051 |
| Volume: | 26,299 ft3 | (745 m3) | Creek: | Redwood Creek | GPS Longitude: | -124.01027 |
| Width: | 17.20 ft | (5.24 m) | Grove: | Tall Trees Grove | Discovery Date: | 1998 |
| Age: | | | Park: | Redwood NP | Discovered By: | Michael W. Taylor |
Notes: Redwood Creek Giant is the 22nd largest coast redwood, the 3rd largest and 13th tallest tree in Redwood National Park, and the 2nd largest and 4th tallest tree in Tall Trees Grove. The main trunk remains over 10 ft (3 m) wide 213 ft (65 m) above ground, and the crown, one of the most-complex known, contains 148 reiterated trunks.
Drive: Redwood Creek Giant is 251 mi (404 km) north of San Francisco near the community of Orick.
From U.S. Highway 101 just north of Orick turn onto Bald Hills Road and drive 7.0 mi (11.3 km) to the Tall Trees Grove Access Road (locked gate: visitor center permit required). Turn right onto Tall Trees Grove Access Road, unlock the gate using the combination code on your permit, and drive south 5.2 mi (8.4 km) on the unpaved road to the Tall Trees trailhead parking lot.

Hike: From the trailhead, hike west/downhill 1.4 m (2.3 km) on Tall Trees Trail to Tall Trees Grove. Just after you pass to the right of a bench near the creek, turn right/northwest at the southern fork in the Tall Trees Loop trail. Hike north 0.3 mi (0.5 km) to Redwood Creek Giant located on the left/west side of the trail at the northern end of Tall Trees Grove.
| | | | | | | | |
| --- | --- | --- | --- | --- | --- | --- | --- |
| Rating: | Easy | One-Way Distance: | 1.7 mi | (2.7 km) | Ascent: | 21 ft | (6 m) |
| Time: | 40 min | Off-Trail: | 0 ft | (0 m) | Descent: | 636 ft | (194 m) |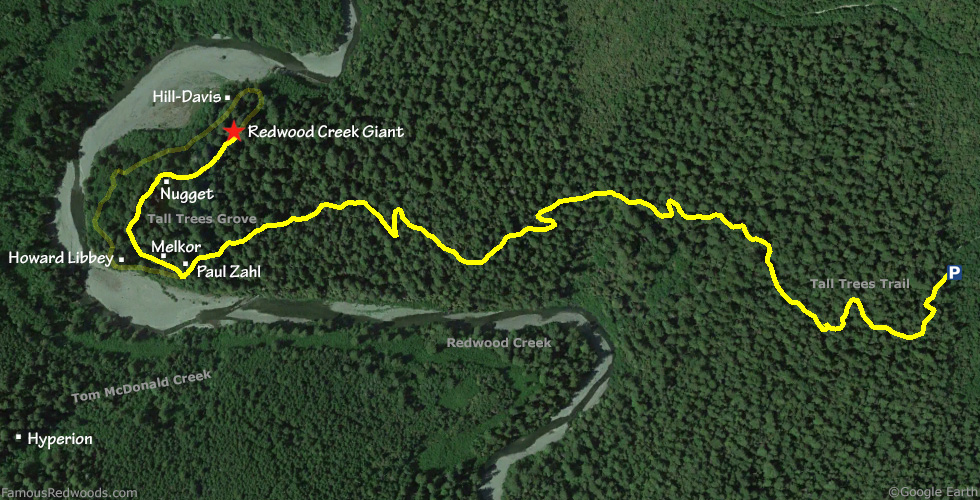 View Redwood Creek Giant Tree location in Google Maps
Photos: Picture of Redwood Creek Giant Tree