Sir Isaac Newton - 6th Largest Coast Redwood
| | | | | | | |
| --- | --- | --- | --- | --- | --- | --- |
| Height: | 299.00+ ft | (91.14+ m) | Elevation: | 370 ft (112 m) | GPS Latitude: | 41.40305 |
| Volume: | 33,192 ft3 | (940 m3) | Creek: | Prairie Creek | GPS Longitude: | -124.03105 |
| Width: | 22.50 ft | (6.86 m) | Grove: | Goethe Grove | Discovery Date: | 1991 |
| Age: | | | Park: | Prairie Creek Redwoods SP | Discovered By: | Michael W. Taylor |
Notes: Sir Isaac Newton, also known as Newton Tree, is the 6th largest coast redwood and the largest tree in Prairie Creek Redwoods State Park. Naturalist Michael W. Taylor named the tree Newton after nearby Newton B. Drury Scenic Parkway but, at fellow naturalist Ronald W. Hildebrant's urging, renamed it Sir Isaac Newton to avoid confusion with Newton B. Drury Tree. Once 311 ft (95 m) tall, Sir Isaac Newton lost height when part of its dead top broke off in 1991.
Sir Isaac Newton (1,203 AF Points) was the American Forests national champion coast redwood until Taylor and Cal Poly Humboldt forestry professor Stephen C. Sillett discovered Lost Monarch (1,290 AF points) in Jedediah Smith Redwoods State Park on May 11, 1998.
Drive: Sir Isaac Newton is 264 mi (425 km) north of San Francisco near the community of Orick.
From U.S. Highway 101 just north of Orick, take exit 753 Newton B. Drury Scenic Parkway. Drive north 4.4 mi (7.1 km) on Newton B. Drury Scenic Parkway, past Gamato, and park near the sign for Edward C. Wagner Memorial Grove on the left/west side of the road.

Hike: From the Edward C. Wagner Memorial Grove sign, walk past the Prairie Creek north sign and follow the trail to the junction with Prairie Creek Trail. Turn left at the trail junction and hike south 0.4 mi (0.6 km) on Prairie Creek Trail to a tree growing out of a log. Turn right/west here to catch a first glimpse of Sir Isaac Newton, with an unmistakable burl growing on the south side of its trunk, and hike west another 100 ft (30 m) off-trail to the tree.
| | | | | | | | |
| --- | --- | --- | --- | --- | --- | --- | --- |
| Rating: | Easy | One-Way Distance: | 0.5 mi | (0.8 km) | Ascent: | 155 ft | (47 m) |
| Time: | 10 min | Off-Trail: | 100 ft | (30 m) | Descent: | 94 ft | (29 m) |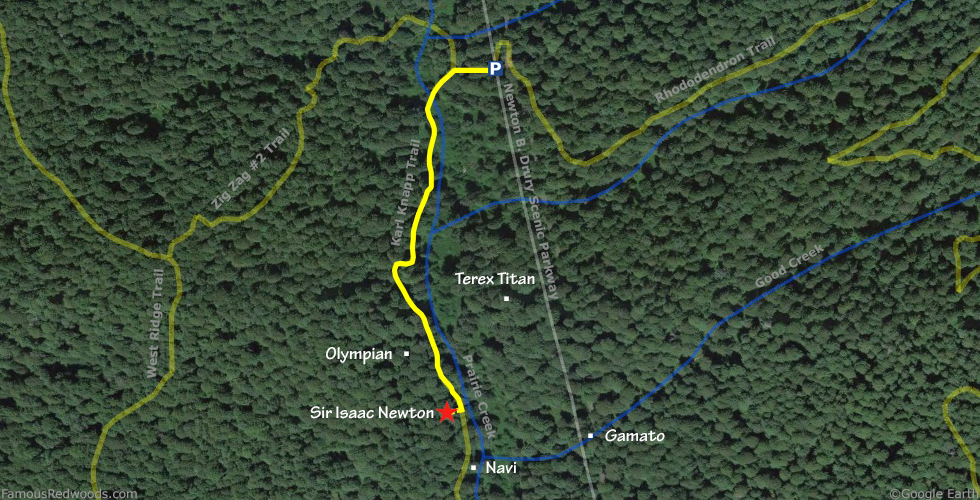 View Sir Isaac Newton Tree location in Google Maps
Photos: Pictures of Sir Isaac Newton Tree taken from different sides