Spartacus - 23rd Largest Coast Redwood
| | | | | | | |
| --- | --- | --- | --- | --- | --- | --- |
| Height: | 315.00+ ft | (96.00+ m) | Elevation: | 250 ft (76 m) | GPS Latitude: | 41.36985 |
| Volume: | 26,000 ft3 | (736 m3) | Creek: | Prairie Creek | GPS Longitude: | -124.01838 |
| Width: | 19.73 ft | (6.02 m) | Grove: | Vance-Morgan Grove | Discovery Date: | |
| Age: | | | Park: | Prairie Creek Redwoods SP | Discovered By: | |
Notes: Spartacus, also known as Sneaky Pete, is the 23rd largest coast redwood, the 11th largest tree in Prairie Creek Redwoods State Park, and the largest tree in John and Edgar H. Vance and Edgar Vance Morgan Grove.
Drive: Spartacus is 261 mi (420 km) north of San Francisco near the community of Orick.
From U.S. Highway 101 just north of Orick take exit 753 Newton B. Drury Scenic Parkway. Drive north 1.2 mi (1.9 km) on Newton B. Drury Scenic Parkway to Prairie Creek Road. Turn left onto Prairie Creek Road and park near the Prairie Creek Visitor Center.

Hike: Hike northeast from the Prairie Creek Visitor Center and cross the bridge over Prairie Creek. Turn right/northeast at the first intersection onto Prairie Creek Trail and hike north 0.4 mi (0.6 km) to a pair of tunnel logs. Turn left/west immediately after you pass through the second tunnel log and hike west/uphill 140 ft (43 m) off-trail to Spartacus.
| | | | | | | | |
| --- | --- | --- | --- | --- | --- | --- | --- |
| Rating: | Easy | One-Way Distance: | 0.6 mi | (1.0 km) | Ascent: | 80 ft | (24 m) |
| Time: | 13 min | Off-Trail: | 140 ft | (43m) | Descent: | 0 ft | (0 m) |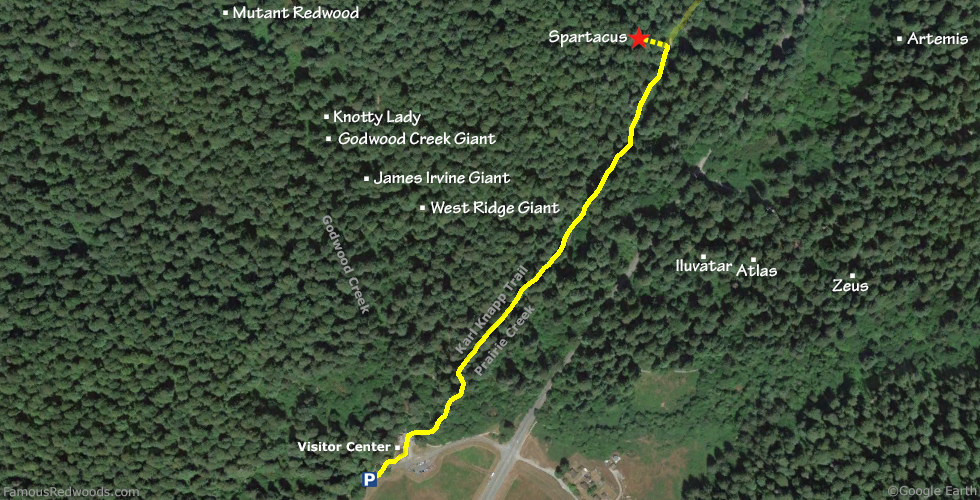 View Spartacus Tree location in Google Maps
Photo: Picture of Spartacus Tree