Terex Titan - 10th Largest Coast Redwood
| | | | | | | |
| --- | --- | --- | --- | --- | --- | --- |
| Height: | 270.00+ ft | (82.30+ m) | Elevation: | 554 ft (169 m) | GPS Latitude: | 41.40455 |
| Volume: | 30,869 ft3 | (874 m3) | Creek: | Prairie Creek | GPS Longitude: | -124.02999 |
| Width: | 21.30 ft | (6.49 m) | Grove: | Wagner Grove | Discovery Date: | 1991 |
| Age: | 2,023 y | | Park: | Prairie Creek Redwoods SP | Discovered By: | Michael W. Taylor |
Notes: Terex Titan, also known as Terex Giant, is the 10th largest coast redwood, the 3rd largest tree in Prairie Creek Redwoods State Park, and the largest tree in Edward C. Wagner Grove. Naturalist Ronald W. Hildebrant named the tree after the General Motors Terex 33-19 Titan haul truck which was, at that time, the world's largest truck. Although the main trunk broke off 213 ft (65 m) above ground long ago, reiterated trunks have since restored most of the original canopy. An 8.2 ft (2.5 m) tall, 1.7 in (4.2 cm) wide Sitka spruce (Picea sitchensis) grows atop one reiterated trunk 174 ft (53 m) above ground.
Drive: Terex Titan is 264 mi (425 km) north of San Francisco near the community of Orick.
From U.S. Highway 101 just north of Orick take exit 753 Newton B. Drury Scenic Parkway. Drive north 4.1 mi (6.6 km) on Newton B. Drury Scenic Parkway, past Gamato, to a turnout, located near 41.40365 -124.02879, on the right/east side of the road. If you reach the Prairie Creek north trail access sign, you have driven 1,000 ft (305 m) past Terex Titan.

Hike: From the turnout, hike north 330 ft (100 m) on Newton B. Drury Scenic Parkway to the Terex Titan viewpoint, located near 41.40453 -124.02907, on the left/west side of the road directly across from a Speed Limit 45 sign. From the viewpoint, hike west 250 ft (76 m) off-trail to Terex Titan.
Although Terex Titan is visible from the road, the hike to the tree is more difficult than it appears at first glance; from the road, you must climb down a 10 ft (3 m) embankment, hike through tall (head-high) ferns and thorny brush, and bypass numerous fallen logs in order to reach the tree. Approach Terex Titan at a slight diagonal from the road because large fallen logs block the perpendicular route.
| | | | | | | | |
| --- | --- | --- | --- | --- | --- | --- | --- |
| Rating: | Moderate | One-Way Distance: | 250 ft | (76 m) | Ascent: | 0 ft | (0 m) |
| Time: | 15 min | Off-Trail: | 250 ft | (76 m) | Descent: | 15 ft | (5 m) |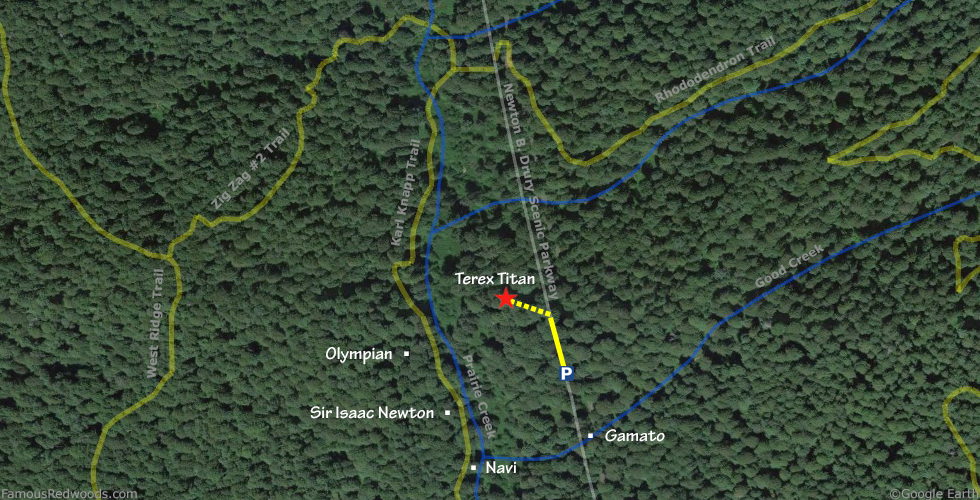 View Terex Titan Tree location in Google Maps
Photos: Pictures of Terex Titan Tree taken from different sides