Drive: Whitehouse Giant is 264 mi (425 km) north of San Francisco near the community of Orick.
From U.S. Highway 101 just north of Orick, take exit 753 Newton B. Drury Scenic Parkway. Drive north 2.9 mi (4.7 km) on Newton B. Drury Scenic Parkway and park at the pullout for the South Fork Trailhead on the right/east side of the road near 41.38774 -124.01734.

Hike: GPS-assisted navigation is recommended for this hike. From the pullout, walk across Newton B. Drury Scenic Parkway to the trailhead on the west side of the road then hike west 0.1 mi (0.2 km) on South Fork Trail to the junction with Prairie Creek Trail. Continue straight, across the bridge over Brown Creek, and hike northwest 0.5 mi(0.8 km) on Prairie Creek Trail, past Brown Creek Giant and across another bridge over Prairie Creek, to the trail exit point near 41.39224 -124.02232. Leave the trail here and, using a GPS device, hike southwest 400 ft (122 m) off-trail to Whitehouse Giant.
| | | | | | | | |
| --- | --- | --- | --- | --- | --- | --- | --- |
| Rating: | moderate | One-Way Distance: | 0.7 mi | (1.1 km) | Ascent: | 187 ft | (57 m) |
| Time: | 20 min | Off-Trail: | 400 ft | (122 m) | Descent: | 161 ft | (49 m) |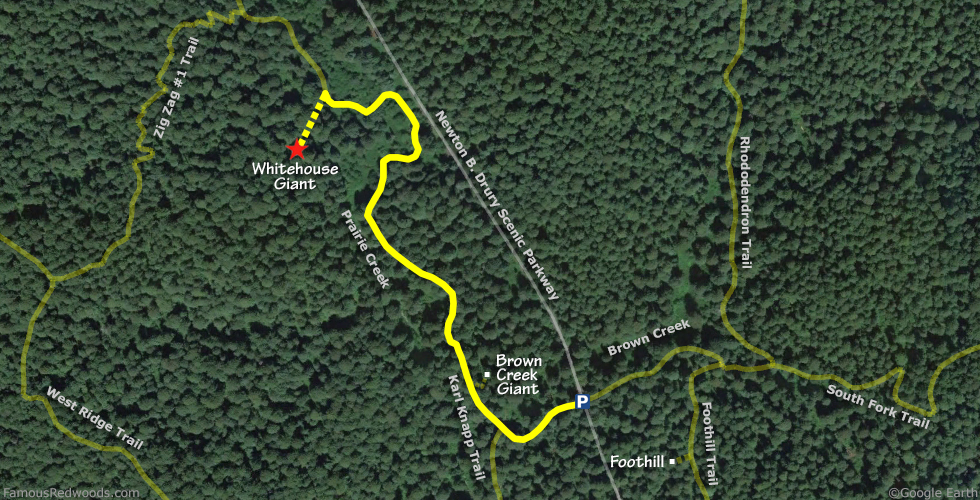 View Whitehouse Giant Tree location in Google Maps