Hyperion - World's Tallest Tree
| | | | | | | |
| --- | --- | --- | --- | --- | --- | --- |
| Height: | 380.81+ ft | (116.07+ m) | Elevation: | 160 ft (49 m) | GPS Latitude: | 41.20491 |
| Volume: | 18,783 ft3 | (532 m3) | Creek: | Tom McDonald Creek | GPS Longitude: | -124.01556 |
| Width: | 15.20 ft | (4.63 m) | Grove: | Hyperion Valley | Discovery Date: | August 25, 2006 |
| Age: | 916 y | | Park: | Redwood NP | Discovered By: | Chris K. Atkins |
| | | | | | | Michael W. Taylor |
Notes: Hyperion is the tallest of three trillion trees on Earth. Naturalists Chris K. Atkins and Michael W. Taylor named the tree after the Greek Titan Hyperion, The High One brother of Kronos and Rhea and father of Helios. Tom McDonald Creek is also known as Fog Creek, and the surrounding valley is also known as Fog Canyon and Hyperion Valley. Hyperion is also the 7th largest tree in Redwood National Park (excludes Jedediah Smith Redwoods and Prairie Creek Redwoods State Parks). Hyperion's crown, 298 ft (90.9 m) tall, is one of the deepest redwood crowns yet measured and contains over 550 million leaves.
National Geographic's Wild Chronicles and biologist James C. Spickler documented the September 16, 2006 first climb of Hyperion. The National Geographic Explorer program Climbing Redwood Giants includes a segment about Hyperion. The Canopy Climbing Collective film Chasing Adventure - The Arborist includes three segments (1, 2, and 3) about Hyperion. Videographer William A. Clary published an aerial flyby of Hyperion. Members of Faith Center Foursquare Church and videographers Steven G. Farmer and Timothy E. Vogelaar documented their journeys to the tree. The BBC Radio 4 Nature program James and the Giant Redwoods features Hyperion. Cal Poly Humboldt forestry professor Stephen C. Sillett photographed Hyperion's highest leaves.
The tallest (Hyperion) and the largest (General Sherman) trees on Earth grow 427 mi (687 km) apart, the tallest coast redwood (Hyperion) and the tallest giant redwood (Near Sherman) grow 427 mi (687 km) apart, and the tallest (Hyperion) and the largest (Hail Storm) coast redwoods grow 40 mi (64 km) apart.
Treefecta: The world's tallest (Hyperion), largest (General Sherman), and oldest (Methuselah) trees grow in California.
Hyperion is directly in the path of the August 12, 2045 total solar eclipse.
Drive: Hyperion is 251 mi (404 km) north of San Francisco near the community of Orick.
From U.S. Highway 101 just north of Orick, turn onto Bald Hills Road and drive 7.0 mi (11.3 km) to the Tall Trees Grove Access Road (locked gate: visitor center permit required). Turn right onto Tall Trees Grove Access Road, unlock the gate using the combination code on your permit, and drive south 5.2 mi (8.4 km) on the unpaved road to the Tall Trees trailhead parking lot.

Hike: Although GPS-assisted navigation is recommended for this hike, nearly 80% of the hike from the parking lot to Hyperion is on a maintained trail. From the trailhead, hike west/downhill 1.4 mi (2.3 km) on Tall Trees Trail to Tall Trees Grove. Turn left at the bench to access Redwood Creek nearest Tom McDonald Creek. Cross Redwood Creek and, using a GPS device, hike 0.3 mi (0.5 km) up Tom McDonald Creek. Most of the hike up Tom McDonald Creek is clear of brush and very accessible, but expect to get your feet wet. The three sets of big logs in the creek, which you must climb over or under, are the only reason this hike is rated moderate instead of easy. About 0.3 mi (0.5 km) up Tom McDonald Creek, 100 ft (30 m) past the last set of big logs, you will see a distinctive pair of tall trees on the hill to your right. Hyperion is the right tree of the pair. Exit the creek here and, following a pair of fallen logs, hike north/uphill 215 ft (66 m) to Hyperion. Welcome to the tallest tree on Earth!
After visiting Hyperion, hike south 0.8 mi (1.3 km) up Tom McDonald Creek to Crown Jewel and Tom McDonald.
Creek Warning: Hyperion is not accessible via Tall Trees Trail when Redwood Creek has high water levels. Though seasonal footbridges are installed throughout summer and fall, the footbridges do no cross Redwood Creek near Tom McDonald Creek. You must wade across Redwood Creek and up Tom McDonald Creek to get to Hyperion. It is best to visit Hyperion from July through October when Redwood Creek is low enough to wade across. To visit Hyperion whenever Redwood Creek is impassable, use the 10.5 mi (16.9 km) longer alternate route via Orick Horse Trail.
Trespass Warning: The forest surrounding Hyperion is closed to the public until further notice. Hyperion, Crown Jewel, and Tom McDonald remain inaccessible indefinitely.
| | | | | | | | |
| --- | --- | --- | --- | --- | --- | --- | --- |
| Rating: | Moderate | One-Way Distance: | 1.8 mi | (2.9 km) | Ascent: | 131 ft | (40 m) |
| Time: | 51 min | Off-Trail: | 0.4 mi | (0.6 km) | Descent: | 805 ft | (45 m) |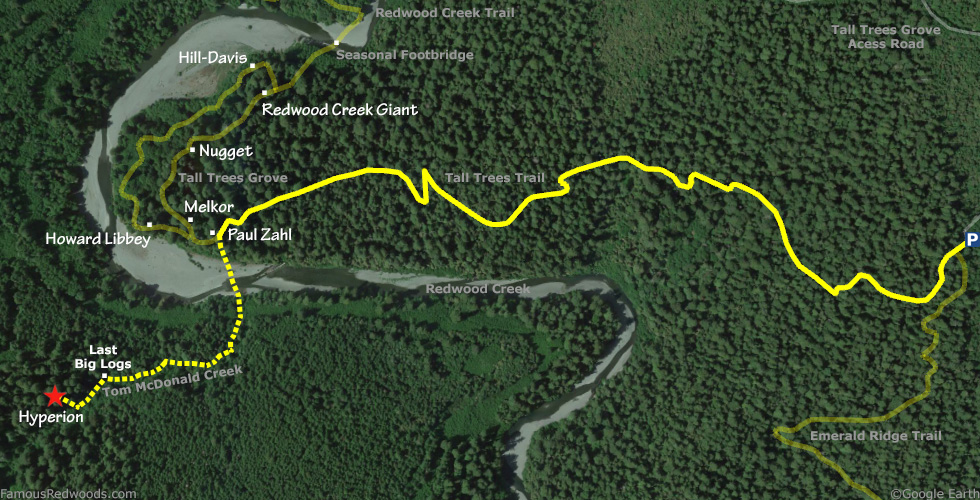 View Hyperion Tree location in Google Maps
Photos: Pictures of Hyperion Tree taken from different sides