Outlier - Tallest Tree in Prairie Creek Redwoods SP
| | | | | | | |
| --- | --- | --- | --- | --- | --- | --- |
| Height: | 360.50+ ft | (109.88+ m) | Elevation: | 540 ft (165 m) | GPS Latitude: | 41.37334 |
| Volume: | 15,617 ft3 | (442 m3) | Creek: | Prairie Creek | GPS Longitude: | -124.00816 |
| Width: | 15.53 ft | (4.74 m) | Grove: | Irvine Grove | Discovery Date: | 2007 |
| Age: | 1,151 y | | Park: | Prairie Creek Redwoods SP | Discovered By: | LiDAR |
Notes: Outlier, also known as TT2, is the tallest and 27th largest tree in Prairie Creek Redwoods State Park and the 5th tallest tree detected by light detection and ranging (LiDAR). It grew an average of 18.3 ft3 (0.52 m3) and 704 lb (319 kg) each year over a recent decade.
In spring 2007, the National Park Service, the Bureau of Land Management, the California State Parks Foundation, the Nature Conservancy, and Save the Redwoods League paid Sanborn Mapping Services $183,000 to conduct an aerial LiDAR survey of Redwood National and State Parks, the Headwaters Forest Reserve, and Humboldt Redwoods State Park. Over a period of three months, Sanborn's 1968 Aero Commander 500S aircraft, carrying Leica Geosystems topographic LiDAR sensors, flew back and forth above the parks, at an altitude of 2,625 ft (800 m), while a laser, firing through a hole in the bottom of the fuselage, scanned the terrain below. The aircraft traveled more than 13,500 mi (21,726 km) during the survey while LiDAR sensors recorded the precise location, between the ground and the treetops, of 85,000 points every second to generate a three-dimensional map of the forest. After researchers processed the LiDAR data to create a list of trees taller than 348 ft (106 m) in each park, they hiked to each tree to verify its height. Although many tall redwoods detected by LiDAR, including Hyperion and Helios, were already known from earlier ground surveys, some trees, including Gulch Tower, Orion, Outlier, and Solstice, were previously undiscovered.
The National Geographic Explorer program Climbing Redwood Giants features the October 2008 first climb of Outlier. National Geographic photographer Michael K. Nichols photographed Cal Poly Humboldt forestry professor Stephen C. Sillett and his wife, botanist Marie Antoine, camping near the top of Outlier. Sillett photographed the view from the treetop.
Drive: Outlier is 262 mi (422 km) north of San Francisco near the community of Orick.
From U.S. Highway 101 just north of Orick take exit 753 Newton B. Drury Scenic Parkway. Drive north 1.5 mi (2.4 km) on Newton B. Drury Scenic Parkway to Cal-Barrel Road. Turn right onto Cal-Barrel Road and drive northeast 1.1 mi (1.8 km) to a turnout, near 41.37272 -124.00665, directly across from this distinctive Outlier trailhead tree and just south of the Outlier view point.
Road Warning: Cal-Barrel Road is closed (with a locked gate) during winter. To visit Outlier whenever Cal-Barrel Road is closed, use the 1.0 mi (1.6 km) longer alternate route.

Hike: GPS-assisted navigation is recommended for this hike. Outlier grows on a steep slope west of Cal-Barrel Road. Walk north up Cal-Barrel Road from your car to the Outlier viewpoint to catch a first glimpse of the tree. Return to your parking spot immediately across the road from the distinctive Outlier trailhead tree, and, using a GPS device, hike northwest 400 ft (122 m) off-trail from the road to Outlier.
After visiting Outlier, hike northwest/downhill 840 ft (256 m) off-trail to Insane.
| | | | | | | | |
| --- | --- | --- | --- | --- | --- | --- | --- |
| Rating: | Moderate | One-Way Distance: | 400 ft | (122 m) | Ascent: | 0 ft | (0 m) |
| Time: | 15 min | Off-Trail: | 400 ft | (122 m) | Descent: | 73 ft | (22 m) |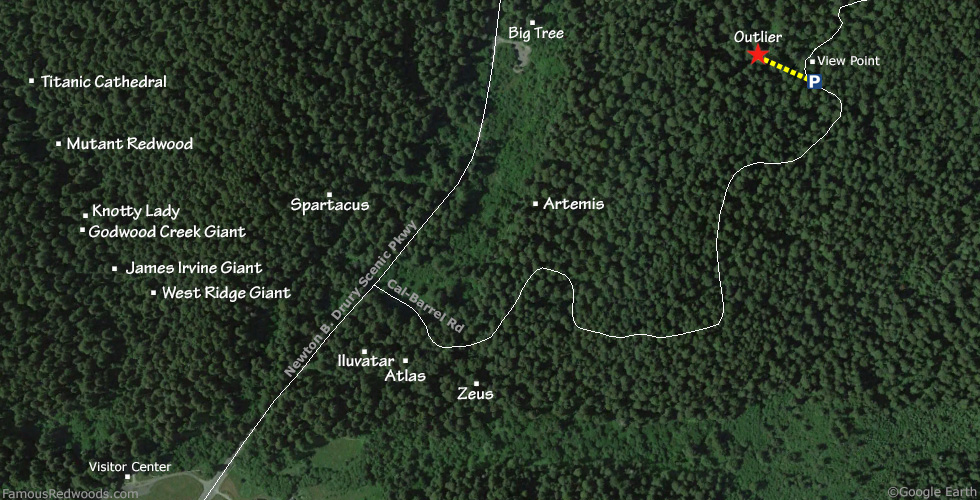 View Outlier Tree location in Google Maps