Dyerville Giant - World's Tallest Tree 1991 - 1991
| | | | | | | |
| --- | --- | --- | --- | --- | --- | --- |
| Height: | 372.00++ ft | (+113.39 m) | Elevation: | 180 ft (55 m) | GPS Latitude: | 40.35025 |
| Volume: | 27,088 ft3 | (767 m3) | River: | South Fork Eel River | GPS Longitude: | -123.92552 |
| Width: | 16.70 ft | (5.09 m) | Grove: | Founders Grove | Discovery Date: | 1966 |
| Age: | 1,600 y | | Park: | Humboldt Redwoods SP | Discovered By: | Alan G. Stangenberger |
| | | | | | | Paul J. Zinke |
Notes: University of California at Berkeley forestry professor Paul J. Zinke and graduate student Alan G. Stangenberger discovered Dyerville Giant in 1966 and named the tree after the nearby, defunct town of Dyerville. Although Zinke and others suspected, as early as 1966, that Howard Libbey was no longer world's tallest, nobody knew that Dyerville Giant had been the new height champion until naturalists Michael W. Taylor and Ron Hildebrant estimated its height from marks made on a nearby tree when it fell on March 25, 1991.
Dyerville Giant (1010 AF points) was the American Forests (formerly American Forestry Association) national champion coast redwood from 1972 until 1991. After Dyerville Giant fell, Giant Tree (1017 AF points) became the new champion, but other trees, including Iluvatar (1084 AF points), Terex Titan (1087 AF points), Howland Hill Giant (1092 AF points), El Viejo Del Norte (1177 AF points), Bull Creek Giant (1190 AF points), Sir Isaac Newton (1203 AF points), ARCo Giant (1211 AF points), Melkor (1216 AF points), Del Norte Titan (1222 AF points), Lost Monarch (1290 AF points), Godwood Creek Giant (1295 AF points), and Juggernaut (1359 AF points) have since surpassed it.
The town of Dyerville, named after Charles Dad Venson Dyer (its oldest resident), was destroyed by successive floods in 1937 and 1955. Remnants of the town were buried during construction of Highway 101 in 1957.
Drive: Dyerville Giant is 195 mi (314 km) north of San Francisco near the community of Weott.
Northbound: From U.S. Highway 101 just north of Weott, take exit 663 South Fork Honeydew. Continue straight, across California State Route 254 (Avenue of the Giants), onto Dyerville Loop Road.
Southbound: From U.S. Highway 101 just north of Weott, take Exit 663 South Fork Honeydew. Turn left onto Bull Creek Flat/Mattole Road, pass under the bridge, and turn right onto California State Route 254 (Avenue of the Giants). Turn left at the next intersection, past the Founders Grove entrance, onto Dyerville Loop Road.
Drive east 500 ft (152 m) on Dyerville Loop Road and turn left into the parking lot.

Hike: From the trailhead sign, hike south 0.3 mi (0.5 km) on Founders Grove Nature Trail, past Founders Tree, to Dyerville Giant.
| | | | | | | | |
| --- | --- | --- | --- | --- | --- | --- | --- |
| Rating: | Easy | One-Way Distance: | 0.3 mi | (0.5 km) | Ascent: | 10 ft | (3 m) |
| Time: | 6 min | Off-Trail: | 0 ft | (0 m) | Descent: | 10 ft | (3 m) |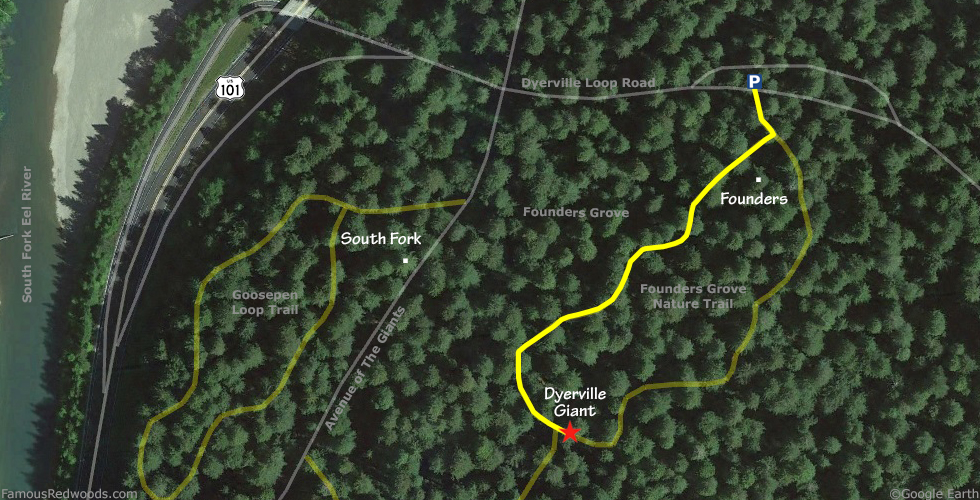 View Dyerville Giant Tree location in Google Maps
Photos: Pictures of Dyerville Giant Tree taken from different sides